The Super Eagles continued their build up for Wednesday's friendly against Liberia on Sunday in Abuja with a comfortable 4-0 bashing of Nationwide Division One side, Dynamic Sporting Solution (DSS) of Kaduna.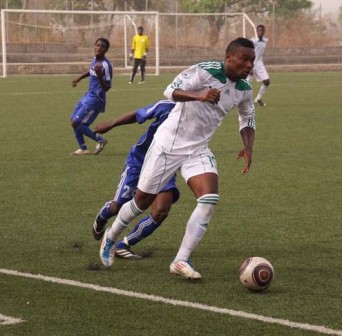 The match, played at the synthetic pitch of the FIFA Goal Project in Abuja, saw the Eagles dominating from start to finish with little resistance from the Kaduan side, who were apparently overwhelmed by the occasion.
Starring skipper Chigozie Agbim was in goal for the national team, while Godfrey Oboabona, Juwon Oshaniwa, Papa Idris and Azubuike Egwueke played in the defence. The midfield had Uche Ossai, Sunday Emmanuel, Ejike Ozoenyi and Gabriel Reuben, while Sunday Mba and Kalu Uche were the arrow-heads.
The Kaduna side took the kickoff and after 5minutes the Eagles struck when diminutive Ozoenyi raced clear from an Mba pass to slip past the goalkeeper of DSS for the opening goal. It was the turn of the goal creator Mba in the 22nd minute after being cleverly fed by midfielder Reuben, to hit home the second goal.
By this time the bench of the Kaduna side led by Ahmed Jubrin was animated as he started to yell at his players to stop according the national team players too much respect.
That seemed to fall on deaf ears as Enyimba hitman, Kalu Uche made it three after Ejike had ran clear off his marker on the left flank to lay him an inch perfect pass.
The first half, ended 3-0 in favour of the national team.
As has become customary during friendly games Stephen Keshi introduced new faces to the squad like Bathlomew Ibenegbu, Osas Omamo,Uche Oguchi, Barnabas Imenger, Obinna Nwachukwu, Izu Azuka, Ahmed Adesope Kabir Umar, Kingsley Salami, Kola Anubi and goalkeeper Okemute Odah.
That made little difference as the Eagles continued their dominance of the game with little resistance from the highly organised Kaduna side.
In the 70th minute, Izu Azuka, dribbled past the defence of DSS and was heading for goal when he was hacked down by a defender. The referee promptly pointed to the spot and Azuka himself stepped up to riffle home goal number 4 goal.
The scoreline stood like that till the referee sounded the home whistle, even as Imenger, Nwachukwu and Ibenegbu all came close to score.
At the end of the day, Keshi in a chat with players and officials of DSS, told them that he was highly impressed by their level of professionalism, and urged them not to be demoralised by the scoreline.
"I have spotted one or two good talents from your squad and I will be watching out for you guys. You had a wonderful game against your national team today, please keep up the spirit", he admonished the players.

Load more