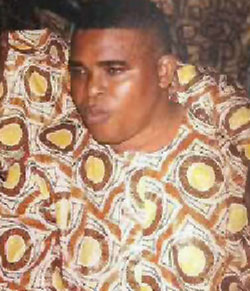 Years after he lost his first wife, Nollywood actor, Kamal Adebayo a.k.a. Sir Kay-Kamoru is set to remarry.
NollywoodReel can reveal that the widely travelled actor, noted for playing the 'bad boy' role in home videos, is set to get married to his heartthrob, Adekunmilola Odumosu, an Aiyepe-Ijebu, Ogun State-born lady who is also British citizen, in an elaborate wedding slated for next month.
Findings revealed that Sir Kay and his United Kingdom-based wife-to-be will be joined together at the Ikoyi Registry, Lagos, after which a lavish party will be held at a yet-to-be confirmed venue.
Confirming the report, Sir Kay said he decided to remarry because he has found true love again.
"I decided to remarry because I found out that a man is incomplete without a woman. I miss my former wife so much. I weep quietly each time I remember the way we lived together. But I realised that no amount of tears can bring her back.
"My wife-to-be is lovely and industrious. She is a beauty to behold," he said, adding that she will be arriving Nigeria soon for the ceremony.
NollywoodReel learnt that Sir Kay's lover is a business woman well-known within the Nigeria communities across Europe.
"We love each other so much," Sir Kay who has produced and featured in scores of home videos stressed.

Load more