Nigeria's number one female wheelchair tennis player, Remilekun Basanya, told Damilare Okunola how bad she feels with the way the Nigeria Tennis Federation, NTF, treats disabled players and other issues.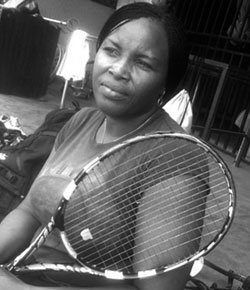 For how long have you been playing wheelchair tennis?
I've been playing this game for about six years now and sincerely, I've not found things easy but I thank God for His help over me. At least, I've been able to travel outside the country once and if not for sponsorship challenges, I'd have travelled more than that.
How many tournaments have you played so far?
The only major championship I had been privileged to play was the New Era National Wheelchair Championship. The last time the tourney was held I was fortunate to be the champion.
You were not at the last All Africa Games?
I was not at the All Africa Games last year because there was no sponsor. To qualify for the All Africa Games, one has to play many tournaments as possible.
How prepared are you for the Olympic qualifiers?
The truth of the matter is that we are always prepared, but the challenge of sponsorship is still there for us to contend with. We hardly get people to sponsor us for major tournaments and that's why we are relatively unpopular in the country.
Which tournament are you preparing for at the moment?
We're in camp for the Wheelchair Tennis Nations Cup which will hold in Kenya. It will also serve as the qualifier for the Olympic Games. We're not sure of participating yet unless we get sponsors, but the tournament should hold soon.
What prompted you to start playing wheelchair tennis?
It was one of my friends that introduced me to wheelchair tennis? Her name is Iyabo and she's now in Germany doing some other business. Ironically, she no longer plays tennis.
Are you married?
I'm married with three kids but I'm no longer with their father. We broke up some years ago but I've been okay ever since.
How have you been coping combining tennis with motherhood?
The only thing I can say about that is that it's God who has been taking care of the kids for me. I have good people around me and they have been wonderful. This has enabled to me focus on my games.
What was your most memorable moment?
It was the day I won the New Era tournament in 2010. I was rewarded with about N200,000. I was very happy and it's still my most memorable moment ever.
Your challenges since you started playing tennis?
It has not been easy at all. Is it the challenges of moving around or that of getting sponsors to play tournaments? I've also passed through the challenge of going on empty stomach after training and several others that I may not remember now.
How do you think NTF can assist you and other wheelchair players?
The NTF should at least see us as human beings. They neglect us most of the time as if we are nobody and worthless people in the society. The only way they can help us is by organising tournaments for us and helping us to get sponsors to play tournaments.
Your future ambitions in the game?
I want to make it big in life and get to the very top in the sport. I want to be famous all over the world as a great tennis player.
How do you relax?
I listen to music and play with my friends.
Who's your role model in tennis?
I like Serena Williams and Roger Federer. I like Serena because of her service and Federer's backhand. They are the ones that I look up to in the game outside the country. But in Nigeria, I look up to Abdulmumini Babalola and Fatima Abinu.

Load more