Acting Inspector-General of police, Mr. Mohammed Abubakar has announced in Uyo, Akwa Ibom state capital, southsouth Nigeria that efforts were being made to change the Nigeria Police uniform very soon.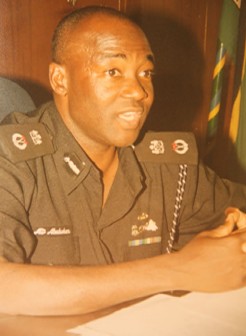 "We are making efforts to change the police uniform to a better uniform to l make you (police officers) to be respected," Abubakar revealed while addressing officers and men of the Nigeria police force during his maiden visit to Akwa Ibom state after his appointment as acting Inspector General of Police.
He said Tuesday training programmes for police personnel this year have been put on hold because facilities are in shambles, adding " while every officer in the police was entitled to training courses, failure at courses after second attempts would not be tolerated.
"Our training institutions are so bad enough, I will not allow my officers to go on courses and use their money to buy water, bread and other needs.
"There is need for national rebirth in the Nigeria Police, the era of corruption is over. We will allow competence and merit to take place," Abubakar declared.
He said that posting in the police would henceforth be based on the individual's capacity to deliver while promotion would be based on performance at promotion courses.
"We must redouble our effort in changing the damaging image that we have in the police today.
"There is need for you to change your attitude to work, there is need for us to go back to the basis of policing in this country. So many things have been done unprofessionally," the IGP said.
He, however, commended the Akwa Ibom Police Command for reducing the crime rate in the state and urged the command to be proactive.
The News Agency of Nigeria (NAN) reports that the IGP, who was the immediate past Assistant Inspector-General (AIG) in charge of Zone Six, Calabar, was on a working visit to Akwa Ibom.
During the visit, he inaugurated a special crime-fighting squad funded by the state government and code-named Quick Response Squad (QRS).
He also inaugurated earlier a fleet of 50 vehicles equipped by the state government for the QRS scheme at Government House, Uyo.

Load more