It was a show of shame yesterday at the Oyo State House of Assembly when an SSS3 student of United Senior Secondary School, Ijokodo, Ibadan, Oyo State, Southwest Nigeria, could not address the legislators in simple and correct English.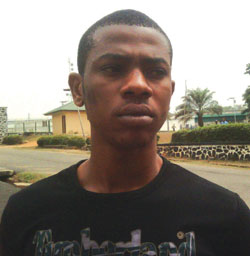 Master Allison Chukwuebuka, also called Ebuka, was invited by the legislators to explain why he beat up his class teacher, Mr. Gbenga Ogunleye, a graduate of Ekiti State University for punishing him alongside other 19 students for indecent dressing.
The student was ushered into the Assembly chambers in the company of his father, Mr. Emmanuel Allison, an inspector with Nigeria Customs Service, and other three top officers of the service.
When called upon by the Speaker of the Oyo State House of Assembly, Monsurat Sumonu to narrate what led to a clash between him and his teacher, Mr. Gbenga Ogunleye on Friday 27 January 2012, there was slight confusion as to whether he was mature enough to take an oath.
But Ebuka himself came to the rescue as he claimed he was 18 years even though investigation by the state Ministry of Education revealed that he was over 20 years.
Immediately he started speaking in Pidgin English, the father felt embarrassed, put his face down and covered it with his palms as as the son explained the circumstances that led to his beating up his teacher.
Giving his own side of the story, Chukuebuka said: "I get to school in the morning. The teacher see me with sandal. He say make I remove my trouser, I say no l can't remove it before everybody. He double the cane, flog me, flog me and flog me. He flog me finish. He flog me until I fall for ground. He dey flog me. The cane too much. The wound too much. After, Vice Principal send me home make I go call my parent".
Responding to a question by the Speaker, Chukuebuka, former student of Imo State Community School who joined United Senior Secondary School last year, said that he was not the only student punished for misconduct that day but he was the only one that violently reacted to the punishment.
His explanation irked the legislators as they unequivocally condemned him for his action.
They also condemned his father who was alleged to have led at least 10 of his colleagues into the school in three Customs' vehicles, shooting indiscriminately and encouraged the son to beat up his teacher.
Kehinde Subair simply summarised his view by saying, "There is an act of indiscipline in the Ministry of Education which must be seriously addressed."
Other legislators that condemned the student for his action were Ibrahim Bolomope representing Egbeda State Constituency and Ganiyu Adekunle from Atiba State Constituency.
Bolomope in his own contribution declared that the student's father was not fit to be in Customs Service, stressing that his contribution to the incident was quite bad.
But Olusegun Olaleye, popularly called Radical, and the youngest in the Oyo House of Assembly, stood on the side of the students and pleaded with the House to temper justice with mercy.
He said that the erring student should be forgiven in the spirit of Valentine which preaches love.
He claimed that the student's teacher was wrong to have brutalised the student. But he was shouted down by his colleagues and prevailed upon to take his seat.
Speaker Sumonu, however, gave two weeks to the three authorities: Oyo State Ministry of Education, Customs Service and the police to make their reports available to the House.
The student has been suspended.
The session was greeted with reaction from over 100 people that came to witness the session.
Most people could not comprehend why an SS3 student could not speak good English, saying that there is enough evidence to show that Nigeria's educational system has completely collapsed.
A woman was heard saying, "Did they say that boy will sit for WAEC this year? What will he write in the examination? Unfortunately, the state government has paid for his examination. I think the state government should stop paying WAEC examination fees on behalf of students. Anybody that can't pay should not sit for the exam because they cannot be wasting money on unserious students.
"There are many things the government can use our money to do."
—Gbenro Adesina/Ibadan

Load more