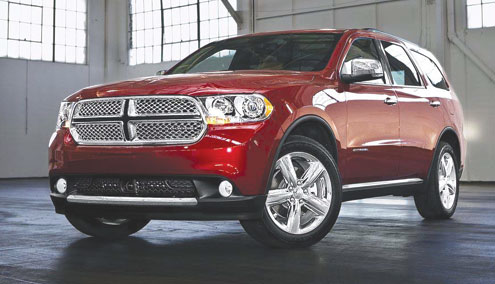 The Dodge Durango, renowned American luxury Sports Utility Vehicle has finally settled in Nigeria, courtesy of Weststar Associates Nigeria Ltd, distributors of Mercedes Benz in Nigeria.
The Durango is reputed for its numerous awards and comparison test victories from well-respected evaluation groups such as Motor Week and the American Automobile Association (AAA).
The 2012 model of the Durango is loaded with an array of features that are only found in top-end Sports Utility Vehicles. With its four-wheel independent suspension, near 50:50 weight distribution, and responsive steering and handling, Durango has driving dynamics unlike what you typically find in a Sport Utility Vehicle.
No other SUV on the road compares with the all-new Dodge Durango's distinctive bold Dodge design that craftily houses a spacious three-row, seven-passenger functional, flexible and premium interior, covered in soft-touch materials.
New for 2012 is an automatic transmission on HEMI V-8-equipped Durango that allows drivers to choose between six speeds when shifting in manual mode. V-6 AWD models now get 23 miles per gallon, a one-mile-per-gallon improvement compared to last year's model.
The 2012 Dodge Durango delivers excitement and refinement with world-class suspension and performance. It's a driver's SUV that delivers impressive on-road performance and capability with the flexibility of a three-row SUV.

Load more