In flagrant disregard of the order of the acting Inspector-General of Police, Mohammed Abubakar that checkpoints be dismantled nationwide, policemen and officers still mount road blocks where they extort money from motorists.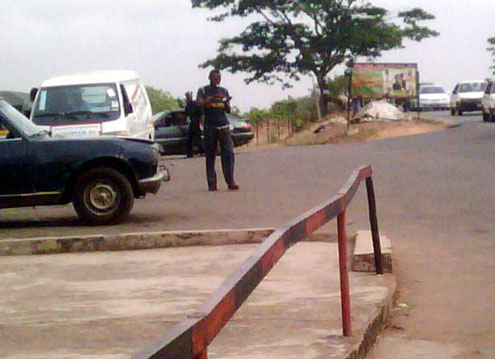 Areas in Lagos where there are still checkpoints include Ajasa road, Abule-Egba, Ekoro road in Agbado-Oke-Odo Council Area and on the Lagos Abeokuta expressway.
Similarly, police still mount checkpoints at Adelabu Street, Surulere, near bread seller, close to the former NEPA (new PHCN) office at Ijeshatedo, Sanya bus stop close to the Oshodi-Apapa expressway and Cele-Ijesha road, opposite Mr. Bigg's.
According to a resident of Ijegun in Lagos who pleaded anonymity, the police checkpoint at 'Ti Oluwa Ni' bus stop, on Ijegun-Ikotun road is still there despite the IGP's order.
He added, "On Wednesday night, policemen were there collecting N100 from each commuter bus driver that passed through the area.
Although there are still checkpoints in Ibadan, Oyo State Police Command today banned all forms of checkpoints by its men saying that any policeman caught on the road for whatever reason is there at his or her own peril.
The Oyo State Commissioner of Police, Mr. Moses Onireti, who spoke through the Police Public Relations Officer, Femi Okanlawon, stated that it has become a crime for anyone to mount checkpoints under any guise.
Okanlawon said that the dismantling of checkpoints is a directive from the Acting Inspector-General of Police, stressing that the police boss handed down this instruction during a meeting with all the police public relations officers.
Okanlawon said that any policeman who contravenes this instruction would be summarily dismissed and possibly face prosecution in the court of law.
P.M.NEWS correspondent, however, moved round some parts of Ibadan this morning and saw some checkpoints.
The areas where checkpoints were mounted are General Gas and Ojurin areas of Ibadan. The policemen there were from Ashi Police Station.
They were busy collecting money from commuter vehicle drivers.
At the two points, five policemen were found in each point and their vehicles were parked by the side of the road.
According to a survey conducted by premiumtimesng.com, an online publication, readers claimed checkpoints still exist in all the states in Nigeria.
For example, a reader identified as Dr. Finest said a lot of checkpoints are in Lagos especially around Surulere while Emmanuel Nwaofunne said there are checkpoints between Asaba and Onitsha.
Another reader, Eburu Onome said that in Udu and Effurun in Delta State, there are checkpoints every two poles and the cops even run shifts. While demanding money, they cops would say "wey am?"
From Iwo, Osun State, Tola Azeez said there are five police checkpoints between Iwo and Ibadan, adding: "All they (cops) do is to collect money from the motorists and harass whoever tried to challenge them."
Mahmoud Aboki said last night he saw a roadblock close to Samaru Police Station on Zaria-Kaduna road in Kaduna State, Northwest Nigeria.
A reader, Giwa Olumide James noted that last night on LASU-Idimu route in Lagos, checkpoints were absent. However, he said there was one at Iyana-Ejigbo also in Lagos. But Aisha Adams said Sango-Ota-Idiroko road in Ogun State was still full of checkpoints like Abel Udoekene wrote, "This is funny, police checkpoints are everywhere in Akwa Ibom State.
Another respondent, Lawal Abubakar said he noticed five checkpoints in Abuja last night.
Similarly, in Osogbo, a reader said he spent about 45 minutes on a road instead of about five minutes because of checkpoints.
In like manner, Osogbo-Gbongan road was said to be full of checkpoints.
According to Benjamin Anyigor, cops used disused tyres to mount checkpoints at Asaba toll gate; Olufemi Akindele said the situation was the same on his journey from Lagos to Ilesha, Osun State.
A reader, Ifeoma Okorafor said there is presently a roadblock per kilometre on Benin-Ore road.
Respondents also wrote that police have continued to mount checkpoints on Kano, Taludu-BUK road, Port Harcourt road, Onitsha, Ibadan-Akure-Ifon-Owo road, Gwarimpa-Abuja and many parts of Ondo State.
There are several checkpoints on Enugu-Benue road, around Secretariat Junction, Jos, Plateau State, Abuja-Kaduna highway, Warri-Sapele road, Port Harcourt and Suleja-Minna, according to reports by the online readers.
Past inspectors-general of police who gave orders that checkpoints be dismantled albeit in vain are: Tafa Balogun, Ogbonna Onovo and Mike Okiro.
Meanwhile, Lagos lawyer and activist, Mr. Femi Falana has commended the directive by IGP Abubakar that all police formations should desist from the practice of detaining suspects beyond 24 hours.
In a statement he issued and signed, Falana also urged the IGP to stop the illegal parade of suspects, saying it is prejudicial to the rights of criminal suspects.
He also commended the IGP's decision to dismantle checkpoints but he called for a regular patrol and monitoring by anti-robbery teams in order to guarantee the safety of motorists and security of goods on the nation's highways.
Falana advised Nigerians to take advantage of the new police boss' commitment to reorganise the police to stand up and defend their personal liberty which had hitherto been grossly abused with impunity.
He urged Nigerians to report complaints of infringements of their rights to the appropriate authorities.
—Gbenro Adesina/Ibadan & Amos Fabiyi

Load more