Two survivors of the Ojota Riverine village, Oto-Awori Local Council Development Area, Lagos, southwest Nigeria, boat mishap, Falilat Idowu, 11 and Muibi Aliu, 16, both students of St. Mary Anglican Primary School, Igbede have recounted how they swam to safety and rescued four of their schoolmates.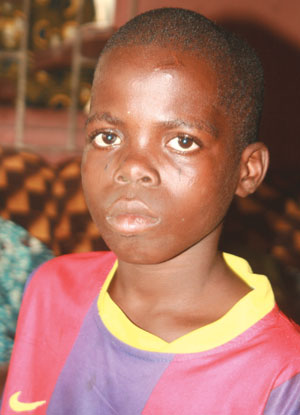 The pupils described how they exhibited bravery by swimming deep into the water to rescue two pupils each when the boat conveying them to their school capsized during a violent storm.
The pupils were victims of last Monday's rainstorm that struck in some parts of the state which caused their boat with 23 people on board to capsize, killing 10 primary school pupils and two women while heading to Agbede Village, another riverine community..
Victims of the tragedy included the extended family of the Baale of the village, Chief Amisu Olakisan Hassan and his wife, Abibat Hassan.
Recounting how the incident occurred, Aliu said their boat was close to their destination when the storm struck, followed by a heavy whirlwind.
He said the storm struck four times before it wrested the boat paddle from the old man conveying them to school.
He added that another passenger inside the boat, Musbau, who also lost his seven-year old son, tried to save the situation but could not because the alternative paddle was very light and they lost control.
He said immediately the boat capsized, while those who can swim swam to safety and ran to Igbede, their neighbouring community for help, he managed to save two victims that were almost drowning.
When P.M NEWS visited the village on Thursday, sympathisers still thronged the Baale's residence to commiserate with him on the tragic incident.
The community leaders, who were apparently in a meeting on how to move the village forward after the both mishap, told our correspondent that the bodies of the remaining victims of the mischap have been recovered and buried.
Speaking on behalf of the Ojota riverine community at the residence of the Baale, 80-year old Alhaji Musa Hassan, said that since the incident occurred last Monday, they have all stopped their children from going to school, adding that none of them is prepared to lose their kids to such ugly incident again. He said until the state government fulfils the promise he made to the community in earnest by providing social amenities including a link bridge for easy access to other communities, their children will not return to school.
Pa Hassan told P.M.NEWS that life is miserable in the village as they lack access to basic social amenities which includes potable water, electricity, link bridge, hospital, school and speed boat to convey the villagers and students to their various destinations.
"Boarding a speed boat is N200 per head while canoe costs N20 and both pend 20 minutes on water but take different routes. We are suffering a lot in this community. To get access to pure water is a herculean task. We have to travel miles away from our village. Maybe if the government had heeded to our cries earlier and provided a school for us here, such unfortunate incident would have been averted.
"The school our children attended before was at Ese-Ofin, a neighbouring village, but it was very far. They will have to trek for almost two hours to get there and now the footpath to the school has been overtaken by bush. Hence they changed their school to Igbede which is quite close.
"Therefore, what we are asking from the state government is the fulfilment of its promise to us to clear the footpath to Ese-Ofin and provide tricycles for transporting our children to and from school," he said.
Kemi Musbau, who also lost her seven-year old son, Michael, to the boat mishap, said:" Those students usually woke up as early as 6a.m. to meet the school assembly. But on Monday, they left before the violent storm. At a point, I was panicking and had to call my husband on phone because he usually followed them to school but I couldn't reach him.
"Then we decided to go and look for them. On our way, we met some people who told us that the boat they boarded had already left for Igbede and we had a kind of temporary relief. It was later that the sad news was broken to us that their boat capsized as a result of the storm. We are really suffering in this village. To get pure water is not easy. Look at our water, you cannot use it to bathe without putting allum, otherwise it will cause serious body infection.
"We have bought all the allum at Ojo market just because we want to bath. Could you believe that you cannot get a single paracetamol in this village? We don't have a health centre let alone a hospital. During child labour, we will have to trek many miles to get to a health centre and what if something terrible happened on the way?
"It is that bad. Let the government come to our aid because we voted for ACN during election. If the government can provide a link bridge for us and other social amenities, there would be development in our village. Our business will boom, while those who learnt vocational work would be able to practise their professions. What most of us do is mat weaving."
Other parents who lost their children to the boat mishap told P.M NEWS that no amount of compensation would bring back their children but appealed to the state government to fulfil its promise in earnest in order to avert such ugly incident in the nearest future.
—Jamiu Yisa

Load more