Gospel music singer, Lanre Teriba a.k.a Atorise, spoke with P.M.Entertainment about his music, the gospel music scene and other issues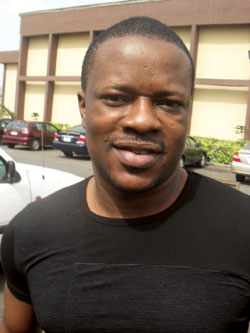 Atorise, where have you been?
I have been busy with my career and I have been travelling up and down to promote gospel music. Also, I released an album titled Mighty God.
In the album, you played a mix of Makossa and Hip Hop, what informed that?
We are in a civilised world and one fact remains that if you can't beat them, you join them.
Is that what Gospel music is about?
Well, Gospel music is not about one particular style in music, you can play any pattern of music or fix your lyrics in anyway. Gospel music is about the message.
Is that why you play at shows alongside fuji artistes and others?
Yes, because my calling is to go and spread the gospel so I have to spread it all over the world.
But you sing praise, is that part of the gospel?
Yes, my mission is make more people listen to gospel music even at parties.
People consider it as a worldly thing, so what's your take on that?
No, because if I want my message to go a long way, I have to take it to the nooks and crannies of the world by playing at good functions.
Some of your colleagues claimed that they sing inspirational song, not gospel, because they play at parties?
Gospel is gospel whether it is inspirational song or not. As long as you are singing for God, it is gospel.
Then who is a gospel artiste?
A gospel artiste is anybody that sings for God.
But some of the senior gospel or old school gospel artistes believe that the younger ones are polluting gospel music. Is this true?
You said the old school, we are not in the old school, we are in the civilised world.
What have been your challenges as a gospel artiste?
We thank God, but what I discovered is that people don't appreciate godly things. I discovered that all over the world people appreciate ungodly things, and we that believe atimes get discouraged but we hold on to the fact that our gain is in heaven.
You mean people don't appreciate gospel music?
Yes, people don't appreciate godly things. For example, the promotion of secular music by radio and television stations is more than that of gospel. In fact, most companies rather brand a secular artiste than a gospel artiste.
You mean telecom and other companies?
Yes, I believe it is high time these companies realised the importance of gospel artistes or religious songs.
What happens if an alcohol producing company decides to brand you, what will you do?
No, I have nothing to do with alcohol. In fact, a beer producing company cannot brand me because of my kind of music but telecom and other companies can brand a gospel or religious artiste.
Many people believe that gospel artistes are religious or saints?
No, I am not a saint but I am a new man in the Lord.
What have you gained as a gospel artiste?
I have gained a lot; I have fame, money and God has blessed me with children.
And women too?
Women? I have one wife.
But you were linked to some other women?
No, I don't want to talk about such now. Let's leave that.
What has been your relationship with the opposite sex?
My relationship with them is that of an artiste and a fan and nothing more.
How do you see Gospel music in the next 10 years?
I have said it over and over again that the gospel will take over the music industry. If you listen to most artistes nowadays, their music don't have good lyrics, their songs are loud and they make a lot of noise.
What about Atorise in the next 10 years?
I want to go into politics in Ogun State and take a shot at a Senate seat.
Have you joined politics?
Not really, but let's wait till then.
So, what is a gospel artiste doing in politics?
What is wrong in that? Is anything wrong with someone that has the fear of God to go into politics.
What has been your relationship with other artistes?
I am a one-man soldier but I listen to the songs of some of them and those I have opportunity to talk to, I speak with them and those who feel they are so special that cannot relate with me, I leave them to their fate.
How will you rate yourself among gospel artistes?
I can't rate myself; it is only my fans and you people that can rate me.
You have been linked to different marketers, why is this so?
Because I am a hot cake and a lot of them want to invest in my music, so I always give them different jobs.
Have you made money from music?
Yes, I have made a lot of money from music and I thank God.
What other thing are you doing now apart from eyeing a political office?
I am working on erecting a personal studio and help the less privileged through my foundation, Lanre Teriba Foundation.
Is Gospel music lucrative abroad?
Yes, it is selling very well, even idol worshiping countries,listen to gospel music. Our music sells well abroad.

Load more