The Lekki farmer who was accused of incest before a Federal High Court in Lagos, Yesiru Onajobi, 50, will know his fate on 19 March 2012 when the court is billed to determine whether or not it has jurisdiction to try the farmer.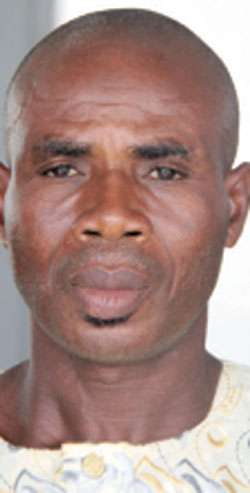 The National Agency for the Prohibition of Trafficking in persons, NAPTIP, had arraigned Onajobi before the Federal High Court accusing him of impregnating his 14-year old daughter, who gave birth to a baby boy on 20 January 2010.
According to the NAPTIP prosecuting counsel, O. J. Ilori, Onajobi, a farmer at Gbogije Village in Ibeju Lekki Local Government Area of Lagos impregnated his 14-year old girl sometime in 2009 when she was under his care at the said village.
When the accused person was first arraigned, Onajobi pleaded guilty to the charge.
NAPTIP counsel informed the court that the victim had given birth to a baby boy and the anti-trafficking in persons' agency had withdrawn the baby boy and the mother from the suspect, Yesiru Onajobi. The matter was then slated for sentence.
However, the Legal Aid Council, LAC, later came into the matter when its counsel, Mr. Akporemeta appeared before the trial judge, Justice Patricia Ajoko, to argue that the court has no jurisdiction to try the case.
Akporemeta had argued that it's only the Federal Government of Nigeria through the office of the Attorney-General of the Federation and Minister of Justice that could prosecute the accused farmer.
The legal Aid council counsel claimed that for NAPTIP to prosecute the matter, it will need the AGF's trial or approval.
Responding, the NAPTIP counsel, Ilori, said the agency represents the interest of Nigeria and the accused person had wronged Nigeria by his deed.
Ilori said NAPTIP does not need the written permission of the AGF to prosecute Onajobi, adding that the law that sets up the agency empowered it to try the defendant and or other persons involved in human trafficking and other related matters under which the accused person falls.
Justice Ajoku, after the submission of both parties, adjourned the matter for ruling on jurisdiction of the court.
However, when the matter came up this morning, only NAPTIP counsel, Ilori was present in court. Akporemeta was absent. Justice Ajoku consequently adjourned the matter till 19 March to deliver his ruling on jurisdiction.
—Akin Kuponiyi

Load more