Lagos Island, Lagos, Southwest Nigeria was a theatre of war this morning as scores of youths from Idungaran in Isale Eko area stormed Isalegangan Street (Onola) with dangerous weapons, including AK 47 rifles, knives, cutlasses and gallons of petrol and set a two-storey building at 28, Isalegangan Street ablaze.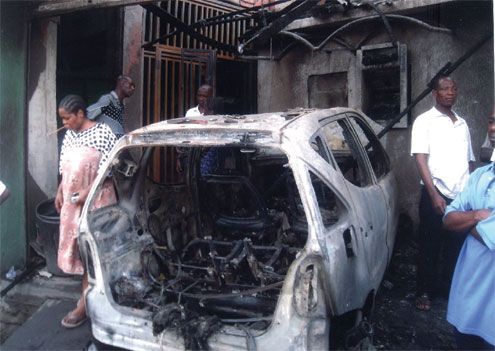 About twenty vehicles were also set ablaze while about 30 others were vandalised on Agarawu Street, Isale Agbede, Aroloya and Tom Jones at Idumota. The mayhem started around 2 a.m.
Several residents of the areas sustained injuries during the clash and were rushed to the hospital. There were unconfirmed reports that four persons were feared dead but their identities could not be ascertained at the time of filing this report.
The rampaging youths who were said to be sympathetic to two chieftains of the National Union of Road Transport Workers, NURTW, Alhaji Akanni Olohunwa and Alhaji Musiliu Akinsanya, a.k.a. MC Oluomo, contesting the chairmanship of the union in the state, attempted to destroy an ATM machine located inside New Star photo studio at 28, Isalegangan Street but they did not succeed. Some houses were also vandalised.
Investigations revealed further that the renewed clash was between youths in Isale-Eko and Onola/Agarawu/Itafaji boys over the ongoing leadership crisis in NURTW.
Some of the vandalised vehicles at Palm Church and Isalegangan streets were still smouldering as at the time of filing this report.
P.M.NEWS gathered that Isale Eko boys assisted by over 60 youths, dressed in black and armed with both dane and automatic guns, cutlasses and iron rods stormed Onola area through Agarawu and Itafaji and attacked youths there.
An eyewitness narrated to P.M.NEWS that the invaders started shooting guns in air, daring anyone to come out and challenge them.
"It was the night guards along Palm Church area that started blowing their whistles to alert residents sleeping outside their buildings because of blackout by PHCN that saved the situation. Many people would have been killed by the armed youths in their homes," the witness stated.
Another source added that the invaders got angry and started vandalising vehicles parrked on the streets when they were stopped by the night guards from attacking youths in their houses in Onola.
In a reprisal attack, Onola boys, it was learnt, drove back the invaders and started attacking innocent commuters coming to the Island through Idumota and Adeniji-Adele axis of the 3rd Mainland bridge.
It was learnt that residents alerted the police but they did not come early and when they eventually did, the havoc had been done by the invading miscreants.
The Head, Fashola family of Onala area, Agarawu, Alhaji Oladosu Fashola, told P.M.NEWS that the elders restrained their youths from attacking the intruders.
Fashola also told P.M.NEWS that the casualty figure would have been on the high side if Onola youths had confronted the invaders.
Appealing to the Oba of Lagos, Oba Rilwan Akiolu, to intervene in the crisis, Fashola said residents of Agarawu are interested in peace on Lagos Island and Lagos State, in general.
"Since the incident happened last night, most shops were not opened this morning. Many residents could not go about their normal duties because of fear of harassment and molestation," Fashola lamented, adding that the people of the area were interested in peace and not mayhem.
Fashola identified the attackers as area boys from Isale Eko, saying that they are not members of NURTW, or any other union.
He called for the intervention of the Lagos paramount ruler and security agents to restore peace to the troubled areas.
Efforts to speak with the Divisional Police Officer, Adeniji Adele Police Station who was seen inspecting the damage done at Isalegangan area proved abortive as he refused to comment on the incident.
Armoured tanks and personnel carriers belonging to the Rapid Response Squad, RRS, were seen stationed at Itafaji, Idumagbo Avenue and Tom Jones areas of the Island after the police had succeeded in quelling the riot.
Business activities at the affected areas were also paralysed as traders refused to open their shops for fear of renewed fighting. Some parents also refused to take their children to schools in the troubled areas.
When contacted, Police Public Relations Officer, PPRO, Joseph Jaiyeoba said he was not sure of the casualty figure now but that he was still awaiting information on it, adding that more policemen had been drafted to the area to maintain peace.
—Kazeem Ugbodaga, Dedeigbo Ayodeji & Paul Iyoghojie

Load more