A 27-year old man who had gone to prison thrice for his alleged involvement in armed robbery has been arrested again for the same offence.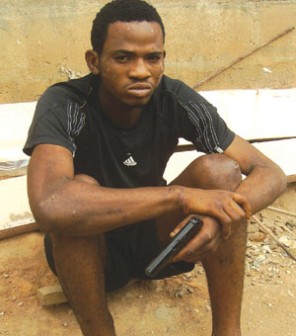 He is currently being detained at the Special Anti-Robbery Squad, SARS, cell in Ikeja, Lagos State, Southwest Nigeria.
The suspect, Godly Julius from Benue State, North Central Nigeria, resides in Pate village, Abuja but allegedly shuttles between Abuja and Lagos to rob.
However, luck ran out on him when he allegedly went to Mile 2 area of Lagos with his other accomplices on a motorcycle to snatch a bag from a woman. In an attempt to escape, he was shot in the leg by a mobile policeman who witnessed the robbery.
He reportedly escaped with bullet wounds but eventually fell off the motorcycle at Okokomaiko.
People around the area who saw him with gunshot wound alerted the police at Ojo Divisional Headquarters and he was arrested.
In his confessional statement to the police at SARS, Ikeja, Julius said, "I learnt furniture making. I have been involved in robbery five years ago. I live in Abuja, but I come to Lagos to rob. I usually stay at a hotel at Iyana Isashi, Okokomaiko with a friend, Pere Agbon and Benjamin with their girlfriends. We pay N3,000 per day for the hotel room. From the hotel room we move out for our robbery operations anywhere in Lagos.
"I used to send money into my brother's account in Abuja to keep for me. From the money I sent into his account, my brother bought a Toyota Camry car for himself.
"On the day I was arrested, we left the hotel on three okada (motorcycles) to Mile 2. When we saw a woman holding a bag, we snatched it. The woman was coming from the bank where she had gone to withdraw money. One of the mobile policemen who saw us opened fire onus. The bullet hit my leg while other members of our gang escaped.
"I fell down at Okokomaiko bus stop and as people gathered to look at me, they called in policemen who took me to their station.
"Pere, who is the gang leader, gave me the gun we used that day.
"The first time I went to prison, I spent one year and three months. The second time, I spent one year and two months, while the third time, I was in the prison for one year."
—Oluwole Adeboye & Ayodeji Dedeigbo

Load more