Top athletics coach in Nigeria, Uruemu Adu, has discovered another young budding talent that can take over from one of the aging sprint stars in the country.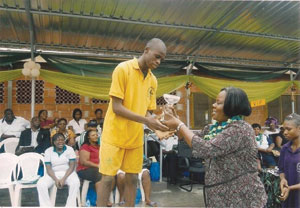 The new talent, Victor Ogooluwa Adenuga, an SS2 student of Doregos Private Academy, Lagos, was the toast of the athletics pundit when he clinched three gold and one silver medals in the school's inter-house sports held recently.
Adenuga, who said Olympics champions, Usain Bolt, is his role model, won a gold medal each in 100m, 200m and high jump, while the silver medal came from table tennis.
Coach Adu noted that the talent exhibited by Adenuga cannot be overlooked by any coach, saying that the young athlete has the potential to make Nigeria great in the nearest future.
"A footballer, who has decided to go into athletics, as he has done and came to display superp performance will be great, if he is exposed to good training. As a 15-year old boy, he still has a lot to offer with proper monitoring," said Adu.
The coach added: "The boy has a lot to offer as he grows older. He still has a lot to learn since he is still in school. But he will become a great star ," Adu noted.
Adenuga, son of Apostle Paul Taiwo Adenuga, General Overseer of the Faith Revival Apostolic Church, was also among the three students selected by Doregoe Academy to represent Nigeria in a science competition slated for Texas, USA in May, 2012.

Load more