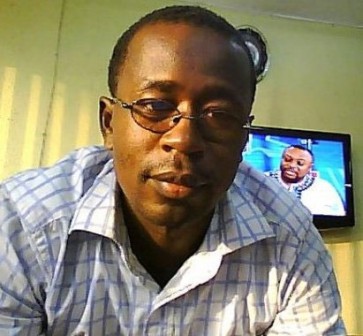 Around the corner came a little bundle of joy with a pink top, a black skirt and white shoe.
The cute toddler was playing on the floor of the Murtala Muhammed International Airport in Lagos, Southwest Nigeria, on 11 January 2012 during the nationwide strikes and protests against the removal of fuel subsidy by the Jonathan administration on 1 January.
She rolled on the tiles with ease and comfort. She rolled left first. Then right. Then all over with the kind of freedom and peace that make adults jealous.
She waved at her parents and then smiled at them with the kind of smile that sets the world alight.
She stood up, ran to them for a hug and returned to where seemed to be her kingdom: the floor.
Around her, there were no pilots to fly planes. No cabin crew to check travellers in. No staff to sell or confirm tickets. No firefighters in case of fire. No one to sell coffee.
There were only policemen with guns, only passengers with doubts, only journalists with bad news. There was complete silence in a vicinity that always bubbles with activities, an airport that is always crowded with people.
Roads leading to the Lagos airport were strangely empty, oddly noiseless, stunningly clean and beautiful.
On the tarmac, planes belonging to local and international airlines rested there hopelessly, people wandered around helplessly.
Touts who generally invade the airport for dubious reasons were conspicuously and fortunately absent.
Drug traffickers and officials of the National Drug Law Enforcement Agency were all missing. The customs, immigration, state security service operatives and other government officials were nowhere around.
Nigeria's biggest airport had been shut down. Shut down by fed up Nigerians who had waited for decades to hold corrupt government officials accountable.
Nigerians were fed up by years of neglect by callous and corrupt government officials.
Africa's most populous country was in crisis and the airport was grounded.
Passengers slept on bare floors. Others took a little walk around, hoping a good news may just come their way. A miracle perhaps.
Some were frustrated. Others fumed. Fumed at a leadership that had failed their people!
Along the airport, old men trekked many kilometres. Shops, offices, banks were under lock and key.
I looked at the little girl again! She was cute. Innocent. Lovely and not bothered by the gloom that pervaded the envoronment in which she was playing freely. I felt great seeing hope in her eyes and freedom in her actions.
Journalism is the greatest job on earth! A job that brings you face to face with people, high or low. With their stories. Their hopes. Their aspirations. Their dreams. Their love. Their disappointment! More than a month after, I still remember the silence at the Lagos airport.
•Ateba is a Senior Correspondent for P.M.NEWS. Email: [email protected]

Load more