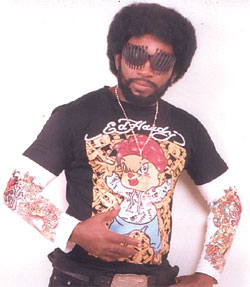 Steve Vitrus Nwosu a.k.a. 1Ted is set to debut with an album titled Transformer.
The building Engineer turned musician who is currently promoting three singles in the album titled Were, 5050 and Mr DJ, said the full album will be released before the end the year.
1Ted meaning Wanted, a Hip hop and rap singer, who said that Fela is his role model, noted that he is ready to change the face of the Nigerian music industry with the release of the 10-track album.
A member of the defunct 'Sickforce ' group, the singer is a man of many parts as he has delved into movies, comedy and other ventures.
As an actor, he has acted in about three films with the likes of Jim Iyke, Aquila Njama, Ireti Osayemi and others.
The Yaba College of Tech Building Engineering graduate is also promoting the video of Were with a promise to release others in batches.

Load more