The pastors of The Redeemed Christian Church of God gave their General Overseer, Pastor Enoch Adejare Adeboye, pleasant surprise on Wednesday, the night the Solemn Assembly came to an end.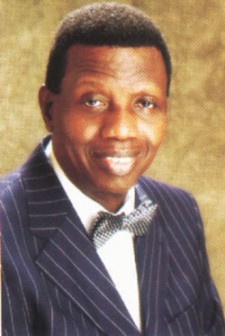 It is the custom of the pastors to gather together for prayer at least 30 minutes before the arrival of the General Overseer. On this particular night, the mode of the prayer as led by the Prayer Director, Pastor Peter Olawale, was quite different as the prayer was more of thanksgiving for the beloved leader of the church.
As soon as the GO came in some minutes after 8.00pm, the various groups that had already prepared filed out to render their songs to God Almighty for His grace upon the leader of the church. Among the groups were the Ekitis, Hausas and Igbos, who sang in their native languages to appreciate God. After this, Prof Aboaba rendered his song after which the wives of the Assistants to the General Overseer, AGOs, presented Daddy, as he is lovingly called, with flowers for his 70th birthday.
In his response, Pastor Adeboye told his ministers: "I know you are eager to celebrate but wait until I am 90, you will have a whole week to celebrate."
The man of God later prayed for them.
Pastor Adeboye clocke 70 years today. Speaking to round off the first day of this year's Special Holy Ghost Service, he enjoined his faithful to fast today till at least 12 noon in preparation for what God will do today.
He said what God wants to do may not be repeated. His words, "If possible, fast tomorrow. What God wants to do tomorrow, it will not be repeated. There are certain opportunities that only come once in a lifetime. If you can fast till 6pm that would be great, if you can't make it to 6 pm, 3 pm will be ok, at the very worst try 12 noon. By this time tomorrow, after midnight, you will know that it is God that sent me to you. Come and experience God like never before tomorrow."
The revered man of God has instructed his faithful not to place congratulatory adverts in the newspapers in respect of his 70th birthday.
—Femi Anjorin

Load more