Jazz musician, Diana Bada, born in Nigeria by Russian mother, spoke about her latest album, Wardrobe Session, her sojourn in the music world and other issues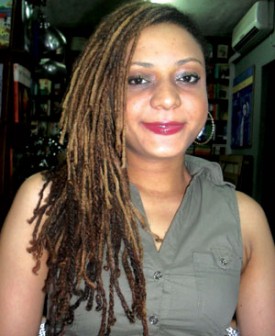 Diana Bada, how did you come about the two names?
I was named by my grandmum, but my dad is a Nigerian from Isale Eko and my mum is a Russian, so I am a Nigerian.
What informed the title of the album, Wardrobe Session?
It is a title we discovered while recording the album. Wardrobe Session is like opening your wardrobe and seeing clothes of different colours. The music itself is a fusion of different genres of music, like a bit of Jazz, Hip hop and other brands. But the album is Jazz music.
Why Jazz?
I am a lover of Jazz music and I have a collection of some good Jazz musicians like Tera Von, Miles Davids; quite a number of them.
You read Business Administration, why are you playing music as a profession?
I took some courses in music in 2008 and I did some classical courses in piano at the Muson Centre and when I was in the UK, I studied in the Liverpool Institute of Performing Art. I did vocal training and at the moment I am taking some lessons on how to play the guitar. I have studied music in the past and I am still studying it. Though I studied Business Administration, I was always in the studio in Budapest, Hungary and while in Hungary I was always going to the studio after classes.
You were a studio rat?
Yes, I was actually a studio rat because I was always in the studio and I used to follow musicians on tour, see how stage is built. I used to perform two to three times a week.
But how did you come about the idea of taking music as a profession?
It runs in the family because my family is a music-loving one and it started at an early age when I used to sing for my sisters in our room and for friends and I grew up having more and more interest in music. I could remember that when I was 13 years old, I was planning to do an album and a producer told me to grow up a little.
Your album is Jazz. Do you realise that it is for a limited audience?
The music is a combination of different genres of music. It has hiphop, reggae, etc. It is modern and it is not creative.
You are in a male dominated industry. What statement are you trying to make?
I believe in myself and I will continue to do what I know best.
In the industry we have the likes of D'banj and co, we also have Asa and co. and they are making their own impact. Mind you, the music wind in Nigerian is spreading, so it is not a one-man show.
But the men are making more impact?
Yes, but if you observed the Nigerian music scene last year you would discover that the female are making their own impact. Times are changing.
What is the motive behind the album?
I am telling a story that is welcoming people to my world.
What kind of world?
The way I see the world in my eyes.
Are you a philosopher?
No. It is about experience and the reality we make and my music is very conscious. With it I am trying to spread the message for people to love each other.
Is your music like satire?
No. It is about togetherness. Everyone has his/her own message like loving each other. I also speak for humanity, speak for relationship, the youths. Apart from that, it is also inspirational.
What about romance?
Everybody has his or her own strength. This is who I am and that reflects in my song.
Are you romantic?
Yes. But that is personal. I keep my romantic life personal but my music is full of messages.
What kind of person are you on and off stage?
I have two sides; the cool and the crazy side. When I am off stage, I am more or less like an observer but when I am on stage I am a different person entirely.
What is the difference between your music and your love life?
The link between my music and my love life is my music and life which is singing about what inspires me.
How will you compare the love life in Nigeria and in Europe?
When I left Nigeria for Europe I learnt more about my country. I learnt about Africa because when you are out of the country you will get exposed to a lot of things like the exploitation and how blessed we are and I started to cherish my country the more.
Why did you return home to present your album?
It is because I am a Nigerian and if I don't do this in Nigeria, I will be a cheat.
How popular is Nigerian music in Europe?
Nigerian music is popular like Fela's music, people do not even know how great Fela was. In Europe, Fela's music is being played in the shopping malls. In fact, the DJs have remixed it more than 100 times. We even have Sunny Ade who have toured round and other musicians. There is a great appreciation for what comes out of Nigeria.
Your brand of music is a unique one, so how do you intend to spread the gospel according to St. Diana?
(Laughs) I have a good management team. We are taking one step before another. We have videos, we are planning to have shows among other things. My video is on TV channel across Nigeria, on Channel O and others. Right now, I am preparing for another single video, Dem So So. The album is on sale at every music outlet and can be downloaded online too.
How much have you spent producing the album?
I won't disclose that because it is an investment. I also have a seven-man band named D'Expression Very Tight band. They all have different music backgrounds like the Keyboardist is an expert in Soul and Jazz, the Electric guitarist, Rock 'n' Roll, the bassist is Funk and Blues, the drummer is Hip hop. I believe the band is a magical band.
As a singer and a pretty lady, how do you relate with the opposite sex?
Thank you. I relate with them professionally. You know, it is a male-dominated industry, so you mix with men more than women and that makes it strictly business. You see to it that they do not cross their boundaries.
If the man is pushing more and more?
You call the police (laughter)
Who is your ideal man?
My ideal man? Well, I am old fashion a bit; I like an honest guy and must be romantic and caring among other things.
Your kind of home?
A good home, my kids will be exposed to their environment. I want a loving environment.
Like marrying a Nigerian?
Love is indifferent to that.
How soon are you getting married?
I can't say but I am married to my music now.

Load more