Last year, during a tribute night organised for the late Christy Essien Igbokwe, a.k.a Apena of The New Masquerade comedy show, Chika Okpala a.k.a His Royal Palm Wine Powerless, Chief Zebrudaya Okorigwe Nwogbo alias 4.30, a star actor in the show, raised an alarm during an exclusive interview he granted P.M.Entertainment.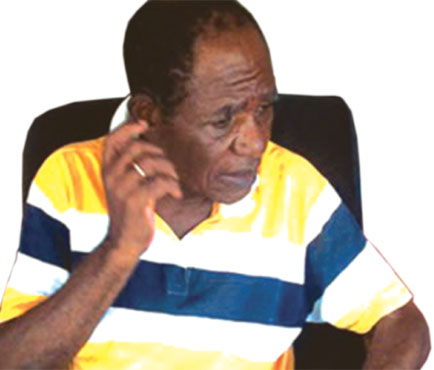 The interview was over the deteriorating health of James Iroha alias Giringori and his other colleague who also acted the role of the second house boy in the TV series, David Offor a.k.a. Clarus Ugbojikwe, the honourable poor man.
Okpala said then that the duo were not enjoying the best of health and that they needed support and prayers.
The plea of Zebrudaya appeared to have fallen on deaf ears as the protracted ailment which was diagnosed as glaucoma resulted in the death of Iroha. Giringori, a humourist, who created one of the longest television soap operas The Masquerade, died at the age of 70.
Now tributes are pouring in torrents for the late humour merchant. The chairman Copyright Society of Nigeria (COSON), Chief Tony Okoroji, in a tribute to the late Giringori, described the death of James Iroha as very painful and that he had almost concluded arrangement with the project manager of 'Who deserves to be a millionaire', Mr Olu Akinlabi for him (Okoroji) to make a special appearance on the programme to raise funds to assist the ailing actor before he passed on.
Okoroji added that during his visit to the Umuahia, Abia State, for the shooting of a documentary in honour of the late Christy Igbokwe, he had a discussion with Iroha who told him about some creative projects he had and how to actualise them. "He told me that the debilitating eye problem could not allow him to achieve his aim."
Some of his colleagues in the entertainment industry are sad that despite the national honour bestowed on him by the Federal Government neither the government of Abia State, his home state, nor the Federal Government came to his aid in his hour of need.
In an interview with the News Agency of Nigeria (NAN) in Umuahia, his colleagues said although they were aware of his ill-health, they had hoped that he would survive.
They described Iroha as "an amiable fellow and a friend of everybody," adding that he would be greatly missed.
Ifeanyi Onwuneme, the deceased's friend for more than three decades and a veteran journalist, said: "His death was very painful.
"He was a very humorous man and was a man of pleasant conduct, who did not like to hurt anybody.
"He was very friendly and would be quick to say 'I'm sorry' if he offended you."
He regretted that the principal actors in the Masquerade, which later metamorphosed to The New Masquerade, a regular weekly comedy show on the Nigerian Television Authority, NTA, were steadily passing on.
The friend recalled the painful death of Claude Eke (Jegede), Christie Essien Igbokwe (Apena) and now Iroha, who, he noted, acted with "a passion to entertain rather than to make money as is the case today."
Similarly, Hyacinth Okoli, the deceased's colleague at Broadcasting Corporation of Abia, where Iroha retired as Director, Television Services, said: "James was a wonderful man.
"He was a man that naturally wished to make everybody happy. He was quite unassuming and down-to-earth and meant well for humanity.''
He explained that contrary to public knowledge, "Giringori was the brain behind the Masquerade."
Okoli further remarked that Iroha showed no discrimination against his juniors in office but saw himself as equal with everybody in the office senior, intermediate and junior.
"James was on Grade Level 13 when I was on level 8 but both of us would always drink together at the bar.
"His death is very painful but one German philosopher rightly noted that 'death is what gives life its full meaning.'"
A famous Nollywood actor, Pete Edochie, has described the death of the veteran actor, James Iroha, as a tragic loss to the industry.
Edochie told the News Agency of Nigeria (NAN) in Enugu on Wednesday that the late actor was a humour merchant, an interesting comedian and a veteran on stage.
"His death is a tragic loss because he was one of the most competent thespians on stage. He was a humour merchant, he was an incredible comedian. Iroha was somebody you stay with and you laugh your ribs into some pains."
Edochie, however, said the movie industry would work with the children of the late actor to ensure a befitting burial for him.
Also reacting, Dr Eddie Mbadiwe, a House of Representatives member representing Ideato North and South Federal Constituency, said the late actor's talent was not fully exploited.
He said such talents should be encouraged in the movie industry.
He was from Amokwe Item in Abia State. He was also a member of the Theatre Arts Department of the University of Ibadan.
Zeb Ejiro, a film producer, said Iroha's death was a sad story.
"He has left a vacuum that cannot easily be filled by anybody; it is sad that people who put smiles on the faces of everybody are not being recognised and honoured".
A former Director-General, Nigerian Film Corporation (NFC), Eddie Ugboma, expressed regrets that Nigerians were fond of making noise when a star is dead.
"It is a shame that James Iroha died in penury. May his soul rest in peace," Ugboma said.
An actress, Ibidun Allison, popularly known as "Amebo" in her role in the defunct "Village Headmaster" television series, said Iroha's death was a sad news for the art industry and for Nigerians.
"He really paid his dues, we will all miss him. May his soul rest in peace," she said.
The Director-General, Centre for Black and African Arts and Civilization, Prof. Tunde Babawale, said Iroha was a good actor who exhibited one of the finest traditions in the performing art.
"He did it for the love of the art and gave it all that he had."

Load more