This may not be a good time for former Super Eagles' skipper, Kanu Nwankwo, and his Portsmouth Football Club in England, as the team faces extinction in about two weeks from now.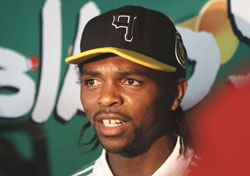 Daily Mail reports today that the FA Cup winners of 2008 are in administration for the second time in three seasons.
And now Pompey are set to run out of cash after Premier League chiefs refused to bring forward parachute payments to keep the club afloat.
Portsmouth cannot pay any of their £50million debts without a cash injection, meaning the Pompey chimes could sound for the last time.
They have also seen £300,000 withheld by UHY Hacker Young, the administrators for the club's parent company.
But that amount would not touch the sides with £2.2million due immediately to former owner Sasha Gaydamak.
Trevor Birch and his team of accountants from PKF are taking legal action over both sums but only a rich buyer will save Portsmouth now.
Birch said: "We previously stated there was a real danger of running out of cash before the end of the season. This risk increases substantially without cash from the authorities. Unless something significant happens, there is a real possibility we may not be able to fulfil the fixtures.
"The only consolation I can give fans, staff and players is that we have not given up hope. But the clock is ticking."
As things stand, the bulk of the next parachute payment of £2.5million will pay Gaydamak.
Over the next two seasons, Pompey are entitled to another £16million. But the Premier League and Football League are against bringing forward the cash, even though this season's games would be wiped out if Pompey fold up.
They fear any money paid could be swallowed up without saving the club and that would be unfair on relegation rivals Doncaster, Coventry and Nottingham Forest.
If Pompey, who also owe wages to Kanu and other players fold before the end of the season, all their results would be wiped out and only two clubs would be relegated to League One.
Just three sides would slip from League One to League Two and one from League Two to Blue Square Premier.
Portsmouth fans are also preparing for the worst, with a plan to start a community-owned club from the scratch.
Pompey Supporters' Trust chairman, Ashley Brown, said: "It appears our club may really be close to being wound up, which is terrible for fans, the city and community.
"We are still pursuing every avenue to help Portsmouth survive in their present form.
"If it isn't possible, we will resurrect our club as soon as possible and hopefully still have a team playing in blue shirts at Fratton Park."

Load more