The month-long funeral of departed Igbo leader and Biafra symbol, Chukwuemeka Odumegwu-Ojukwu came to a momentous close this afternoon as his remains were interred in his Nnewi country home, Anambra State, southeast Nigeria.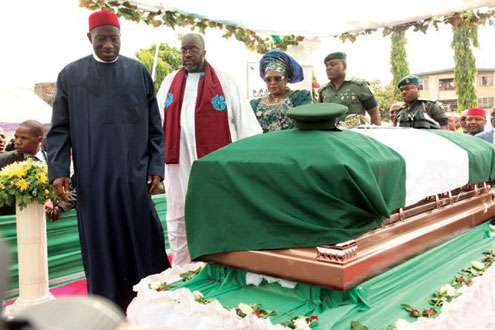 Ojukwu's body was lowered into a grave in his palatial residence, after a requiem mass was held at the next door St. Michael De Arch-angel Catholic Church.
Before the interment, Ojukwu's body was laid-in-state in his compound, with family members and dignitaries paying their last respects.
President Goodluck Jonathan, accompanied by his wife, Patience led a federal government delegation to the funeral to pay his last respects to the deceased Igbo leader.
The president was received by the host governor, Peter Obi of Anambra State.
In a condolence message, the president extolled Ojukwu's virtue of selflessness.
"I am here with my wife to pay respects to our leader Ojukwu whose life symbolises service to the people. May his soul rest in peace," Jonathan wrote in a condolence register opened at Ojukwu's home.
One of Ojukwu's heirs, Chukwuemeka Jnr, also paid tributes to his dad describing him as "a hero to all".
"He was a champion of the people. Someone who stood up when the country needed somebody to stand up; and he did that selflessly," he said.
The Biafra leader's son rejected the tag of "rebel" being associated with his dad for spearheading the botched secession of the Republic of Biafra from Nigeria, which resulted in a 30-month long bloody uprising.
"My father was not a rebel. My father was a freedom fighter. He was a man that fought against injustice," said the younger Ojukwu.
The Nnewi town, where Ojukwu holds the revered traditional title of the Ikemba of Nnewi, throbbed as dignitaries from far and near came to honour the departed Ezeigbo Gburu-Gburu – supreme leader of the Igbo race.
Among the dignitaries are the Chief of Army Staff, Gen Ihejirika, Emeka Anyaoku, former head of the Commonwealth, politician Chief Emmanuel Iwuanyanwu, and APGA National Chairman, Chief Victor Umeh.
Ojukwu died, aged 78, on 26 November last year, in London, after suffering a stroke. He is survived by his widow, Bianca and many children.
—Tokunbo Olajide/Nnewi

Load more