The winner of the prize money of the pmnewsnigeria.com predict-and-win promo, Bamidele Dare, has revealed that he borrowed money for transport to the company's premises to redeem his prize.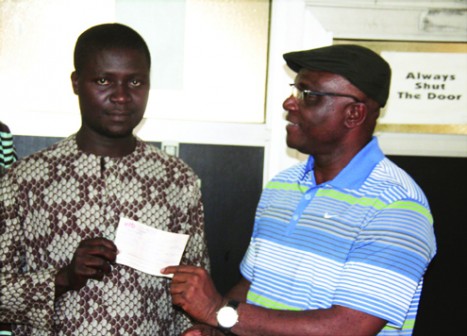 Dare won N50,000 for predicting accurately the result of the 2013 Africa Cup of Nations qualifier between the Super Eagles of Nigeria and the Amavubi of Rwanda in Kigali.
While many people believed that the Eagles will beat the Rwandans, Dare and three others predicted that the matchwould end in a barren draw. Dare was, however, picked as the winner through an open and transparent lucky dip.
Speaking at the company's corporate headquarters in Agidingbi, Ikeja, last Friday, Dare disclosed that he had to borrow N1,000 for transport from a colleague to enable him come around for his winning prize.
"The truth is that I did not have money to pay for transport from my place of work to this place," said Dare, who works at the Computer Village, Ikeja.
"I am grateful to the management of the P.M.NEWS for fulfilling its pledge of N50,000 to the winner of the promo. The company has done a good thing by giving back to the public," said Dare.
He said: "I am so happy that I am the winner of the prize money. I didn't have the slightest inkling that I could win the money when I played it on the internet. It is still like a dream to me because I was not expecting it at all."
Dare said that he did not believe when someone from the company called him on the telephone to inform him that he has won N50,000.
"I only believed when I got here and I was given the money in the full glare of the people at the company's office.
"The reason I did not believe him when he first told me was due to the fraudulent activities that are common in the country today. I thought it was a fraudster that was trying to pull a fast one on me," added Dare.
Asked how he would spend the money, Dare disclosed that he will use a certain amount of it to sponsor his father who is due for a surgery this month at the Obafemi Awolowo University Teaching Hospital, Ile-Ife.
"This has been of great concern to me because all efforts to get money for the surgery have failed.
"He has urinary problem and he is due for the third operation in Ife. I am happy because part of this money will be used to foot his hospital bill," Dare disclosed.
—Bimbo Ajayi

Load more