Filling stations in many parts of Ogun State, Southwest, Nigeria, are now selling fuel from prices ranging between N100 and N120 as many claimed that they do not have fuel to sell.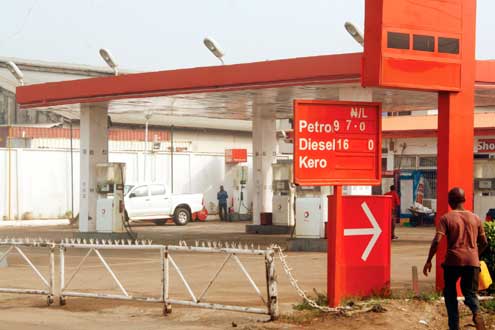 P.M.NEWS investigation revealed that queues are forming gradually in some areas across the state where the fuel scarcity has worsened.
Our correspondent who moved round the state reports that many filling stations are shut while some that opened claimed that there is little or no fuel to dispense.
In Ijebu Ode, Ijebu Igbo, Itele, Expressway, Oke Owa and other towns around Ijebu Ode, long queues of motorists have been forming at the three stations that are selling the product at the official price of N97.
The filling stations are Zipest in Abeokuta and Awokoya road, De Bash at Awokoya and Paramount road and Total Filling stations at Epe motor park.
Investigations in Sagamu and its environs show that many people have been buying the fuel in jerrycans and kegs. According to those that spoke with our correspondent, they have to pay extra money to petrol attendants before they can sell to them in the kegs.
Residents of towns such as Ipara, Iperu, Ikenne, Ode, Isara, Akaka, Ilara and other neighbouring towns around Sagamu are now trooping to AP filling station along Sagamu-Benin expressway to buy the fuel.
When our correspondent visited Ado-Odo, Sango-Ota in Ado-Odo/Ota Local Government Area of the state, the story was different as most filling stations in the areas are selling the products between N105 and N120.
At A.A. Ekweme filling station which is directly opposite the Ado-Odo Micro Finance Bank, a litre of petrol is selling for N105 while at Milky Oil along Alapoti town, a litre of petrol goes for N120.
Also at the Total filling station in Ado-Odo on the way from Owode, fuel is selling for N120 per litre with many motorists queuing at the station this morning when our correspondent visited.
A source revealed to our correspondent that the marketers in Ado-Odo/Ota local government area met yesterday in an area in Ado to deliberate on the looming scarcity and the outcome was sudden hike in the price of the product.
According to the source who is a manager in one of the filling stations, but pleaded anonymity, "My boss just came back from a meeting they (marketers) went and directed that the price should be increased to N120. My findings show that most filling stations around us here down to Ipokia are selling for N120 and N130."
With the present situation in some parts of the Gateway state, most motorists have resorted to travelling to Abeokuta, the capital city to purchase fuel at the NNPC Mega station and some other stations which are still selling at the official rate of N97.
Transport fares have gone up by at least 20% and commuters that cannot afford it have resorted to trekking to their destinations.
P.M.NEWS gathered that some residents have begun to buy fuel in kegs and jerrycans to store in their various homes and offices.
—Abiodun Onafuye/Abeokuta

Load more