Afro pop singer Goldie Harvey has raised alarm over a threat to her life by a former security guard. The Kennis music diva said the man she recently sacked after he was allegedly caught stealing has threatened to pour acid on her.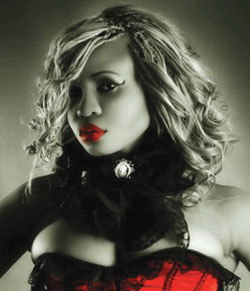 Goldie reported the man to the Police and took to her twitter handle @goldieharvey on 4 March to tweet her ordeal to the world.
She said everything started in January during the fuel subsidy strike when someone told her that the man had been allegedly stealing diesel repeatedly from the tank in her home. She said a trap was allegedly set and on 7 January, he was caught red-handed with another 50 litre keg which he was about to sell.
"I called him and warned him that the next time he does this, I will report him to the police…
"He was apologetic, knelt down and thanked me for not sacking him, explaining that he had family issues…I forgave him but with a very strict warning. I didn't want to make a guy jobless. No one is perfect and since he was remorseful; or so I thought…" she tweeted.
Goldie said two weeks later, the guy was allegedly caught again. In the middle of the night, the guard was allegedly siphoning fuel into a 50 litre keg. She fired him immediately and called her estate security to escort him off her premises.
"I gave him his salary minus the price of the diesel he had allegedly stolen. He argued with me saying he'd only stolen 20 litres and not 50 litres. So why should I deduct the cost of 50 litres of fuel from his salary. His demeanour became threatening. But thank God for the presence of the estate security. He left and I thought the matter was over and done with," Goldie said.
But almost two months later, the sacked guard ran into Goldie's younger brother at Falomo in Ikoyi, Lagos and allegedly told him that he will kill the singer wherever he sees her because she didn't pay him his full salary.
"According to witnesses, he was shouting and threatening to pour acid on me, before killing me if he dares lay his eyes on me. When I heard, I thought to myself; if only I'd gotten the Police involved when we caught him stealing diesel, he won't have the guts to be saying all this," she explained.
Showbiz Trends learnt that already the guard has been arrested by the Police but all efforts to locate the Police Station where he is being detained were unsuccessful as at press time.
—Funsho Arogundade

Load more