. Jonathan promises to prosecute the killers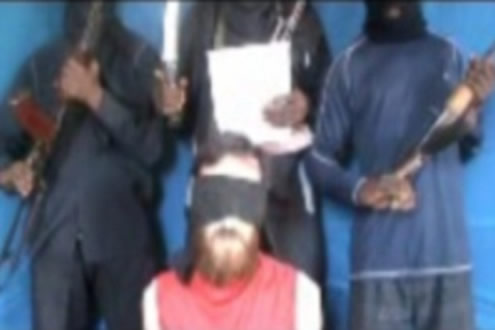 A British and Italian hostages have been killed after a botched rescue attempt to free the pair from Al Qaeda kidnappers, according to the Daily Mail.
Chris McManus and Franco Lamolinara had been held since May last year after being captured in northern Nigeria.
Their kidnappers are believed to have killed the hostages as a special forces team – including British troops – moved in to free them.
Eight members of the Special Boat Service, supported by between eight to 12 Royal Marine commandos, carried out the operation.
Their deaths were confirmed by David Cameron who phoned Italian Prime Minister Mario Monti to tell him the news.
The pair had been working in Nigeria when they were taken last year.
They were seen pleading for their lives in a number of videos released by their captors.
Mr Cameron today said that British authorities believed the men's lives were in 'imminent and growing danger' and a rescue attempt was mounted by Nigerian authorities with British support.
But he revealed that both hostages were killed by their captors before they could be rescued.
He said: "Chris McManus, a British citizen, was taken hostage by terrorists in Northern Nigeria in May 2011. He was taken hostage with his colleague, an Italian national, Franco Lamolinara.
"Since then, we have been working closely with the Nigerian authorities to try to find Chris and Franco, and to secure their release.
"The terrorists holding the two hostages made very clear threats to take their lives, including in a video that was posted on the internet.
"After months of not knowing where they were being held, we received credible information about their location.
"A window of opportunity arose to secure their release.
We also had reason to believe that their lives were under imminent and growing danger.
"Preparations were made to mount an operation to attempt to rescue Chris and Franco. Together with the Nigerian Government, today I authorised it to go ahead, with UK support.
IIt is with great regret that I have to say that both Chris and Franco have lost their lives.
"We are still awaiting confirmation of the details, but the early indications are clear that both men were murdered by their captors, before they could be rescued.
"Our immediate thoughts must be with Chris and Franco's families, and we offer them our sincerest condolences.
"Both families have endured a terrible ordeal, and this is a devastating moment for all of them.
"The Foreign Office have been in regular contact with the McManus family since Chris's capture. I spoke to them just before Christmas and I have spoken to them again with the news this afternoon.
"I want to take this opportunity to thank the Nigerian authorities, and President Jonathan personally, for all they have done to help find Chris, and combat terrorism.
"I also want to pay tribute to all those, including UK personnel, who worked so hard to try to bring Chris home safely. I am very sorry that this ended so tragically.
"Terrorism and appalling crimes such as these are a scourge on our world. No-one should be in any doubt about our determirnation to fight and to defeat them."
Nigeria's president Goodluck Jonathan meanwhile said those responsible had been arrested, Nigerian President Goodluck Jonathan said in a statement.
Jonathan "condemned the killing of two kidnapped foreigners — an Italian and a British citizen — in Sokoto state Thursday by their Boko Haram captors before they could be rescued by a joint security raid on the kidnappers' hideout," a statement from his office said.The statement added: "The president, who particularly commended the cooperation and understanding of the British and Italian governments, assured that the perpetrators of the murderous act, who have all been arrested, would be made to face the full wrath of the law."

Load more