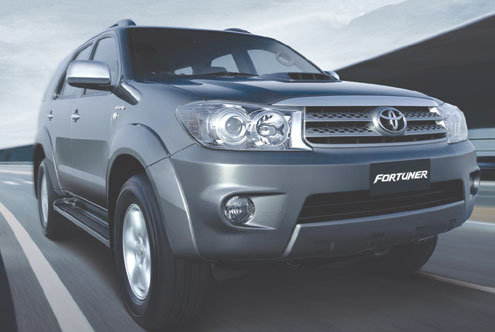 The Fortuner, though not as large as the Toyota Land Cruiser Prado introduced into the Nigerian market last year seems to be making waves as holidays are fast approaching, and has been described by consumers as an ideal vehicle for people with large families given its capacity to accommodate seven passengers and luggage at a go.
Powered by a 2.7-litre gasoline engine and an automatic gearbox, the Fortuner delivers a smooth ride on every terrain, be it paved road or off-road. Conceived under Toyota's ambitious innovative International Multi-Purpose Vehicle (IMV) project, it is designed to be rugged, robust and affordable.
Perhaps Toyota's decision to introduce the Fortuner seems to have been necessited by the fact that families need to travel in comfort and the Fortuner simply fulfills this. It is rugged, powerful and has all it takes for any road condition. The Fortuner is suitable for families looking to size up from the sedan car. It competes with the likes of Chevrolet Captiva, Mitsubishi Outlander, Kia Sportage and Suzuki Grand Vitara but offer space advantage for seven, which is not available in the competing brands and models.
The Fortuner has a well finished interior with a well laid out dashboard. It's off-road ability make it ideal for all terrain. Designed to appeal, the Toyota Fortuner from the front showcases a fresh three-tier chrome grille layout as well as a revised bumper bar design including new spotlights.

Load more