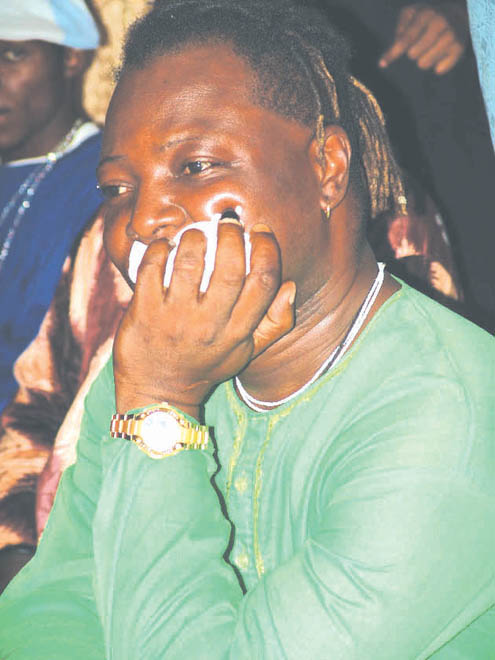 Following the success of the popular Highlife weekend show, Nigerian Idol has upped the ante with their latest offering. The event with the theme 'The American Legend Show', witnessed the six finalists perform hits from American stars through the years. From Elvis Presley to Donna Summer, the night was replete with a medley of hits.
Joining the judges table last weekend was star rapper, M.I. He was joined by his Chocolate City label mate, Brymo, who also performed at the show.
Tiwa Medubi, the show's Project Manager said: "The massive popularity of Nigerian Idol continues to astound us. We are receiving feedback from all over the country and in countries like the UK and Germany. We are grateful for all the love, encouragement and appreciation being poured on us and we are committed to doing even more."
After M.I's performance of the song, 'Number 1', Najite kicked off the show. Clad in an all black ensemble with complementary gloves and a fierce attitude to match, he delivered Ain't No Mountain High Enough by Diana Ross. The performance turned out to be her most powerful yet and she got commendations from the judges.
Next was Stephen Onochie with a heart-warming performance of Bette Midler's 'Wind Beneath My Wings. His performance was impressive, and even earned him an invitation to sing at Charly Boy's 35th Wedding Anniversary. Lynda Giami, shed her shy mien by delivering Tina Turner's What's Love Got to Do With It? earning her the moniker the 'Light switch babe.'
Maintaining his signature pose, Joe Blue showed why he is still in contention to become Nigeria's Idol with his performance of Cher's Believe spraying the audience with pixie dust. Mercy had another great evening as she performed Donna Summer's She Works Hard For The Money. With her stunning black dress, charisma and strong vocals, she left the audience in awe with her exhilarating performance.
Honey Adum was the last performer of the night. He performed Elvis Presley's Fever.
As the show continues to grow in popularity, sponsor Etisalat has reiterated its support for it. "Etisalat continues to support Nigeria's immensely talented youth especially the teeming young Nigerians who desire to become the next big thing in music. Nigerian Idol represents the biggest music platform for young Nigerians just as Etisalat represents the biggest communication platform for young Nigerians," said Idiare Atimomo, Manager Youth Segment, Etisalat Nigeria.
—Bayo Adetu

Load more