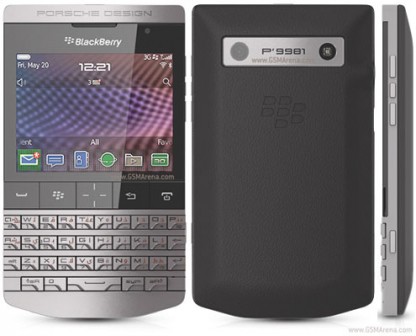 When the Blackberry Porsche was introduced last year, many people dismissed it, saying it was a rumour. Well, it isn't! It has been launched and is now in the Nigerian market selling for between N340,000 to N380,000.
About three months ago when it was launched in the UK, many Nigerian gadget lovers were shocked at the whoping asking price of $2,000 (N322,180) placed on the phone which neither has a gold nor diamond castment. More shocking to them was the fact that the Blackberry device has no 'out of this world' features compared to other BlackBerry phones.
Despite these shortfalls, the phone is now selling in big phone shops in Lagos and quite a number of privileged individuals are already buying it.
At Slot shop in computer village, Ikeja, a dummy of the phone is on display with a price tag of N340,000. A source in the market told Consumers' Advocate that other bigs shop in the market have placed their orders for the phone and will start selling immediately the stock arrives.
Although many believe that the phone is not worth the big price place on it, some unique features arguably stand out on the BlackBerry device.
Porsche P'9981 as the smartphone is popularly called is an exclusive phone styled by Porsche Design, a brand reputed for designing luxury products. Inside, the BlackBerry Porsche Design P9981 is similar to the Bold 9900 Touch featuring a 2.8-inch VGA Touch display and QWERTY keyboard.
BlackBerry Porsche looks solid and mean (bold). The phone naturally exudes authority and class. The phone comes with a stainless steel finish with quality leather on the rear side.The QWERTY keyboard is in a class of its own.
The phone also features a 1.2GHz processor with 768MB RAM just like the Bold Touch. It comes with BlackBerry 7 OS with all its bells and whistle: improved universal search with voice enabled search, improved multi-tasking, support for Near Field Communication (NFC), support for 720p HD video recording, and support for augmented reality apps. The phone also features the Wikitude World browser, an augmented reality app that enables you discover and interact with the world around you in real-time. Of course, you still get BlackBerry Messenger and a suite of other BlackBerry services.
BlackBerry Porsche Design P9981 is an exclusive smartphone and RIM is not leaving anyone in doubt. Owners of the BlackBerry Porsche P'9981 will have a limited edition PIN series, which according to RIM will be easily identifiable to ensure that owners standout in the crowd.
Like the BlackBerry Bold Touch, Porsche Design P9981 features a 2.8-inch touchcreen with VGA (640 × 480 pixel) resolution. It also features QWERTY keyboard, but a more tasteful one. Also similar to the Bold Touch, BlackBerry Porsche P9981 comes with a 5MP camera with 720p HD video capability.The Camera comes with Flash, autofocus, face detection, geo tagging, and image stabilisation.
In the area of data and network connectivity, BlackBerry Porsche Design P9981 supports high speed internet with up to 14.4Mbps on 3G networks. Outside 3G coverage the Porsche Design P9981 supports EDGE and GPRS on GSM networks. The phone also supports dual-band Wi-Fi 802.11 2GHz b/g/n and Wi-Fi 802.11 5GHz a/n. It also features USB, NFC, and Bluetooth.
Other unique features of the phone includes: 8 GB on-board memory: supports for up to 32 GB cards Buy Memory card: Sensors: Accelerometer; Digital Compass; Proximity Sensor; Built-in GPS /A-GPS; Integrated speaker and microphone; Integrated hands-free speakerphone; 3.5mm audio support; Trackpad navigation; 3G WCDMA/HSPA+ (Tri-band 850, 1900, 2100MHz); Quad-band GSM: 1900/1800/900/850 MHz; Document reader (Word, Excel, PowerPoint, PDF) .5 Talktime and 348 Standby time.
—Henry Ojelu

Load more