At least eleven vehicles were burnt early this morning in a ghastly fire incident that occurred in front of NNPC Mega Station located very close to General Gas Junction along Iwo-Ojoo road.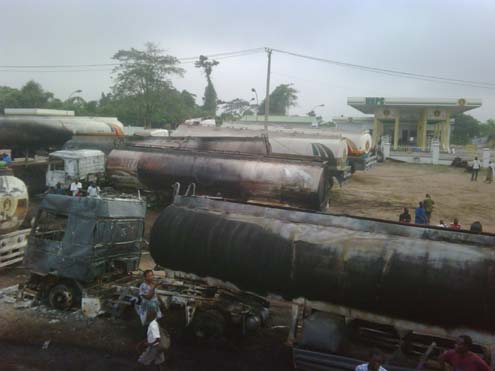 The affected vehicles included eight trucks with registration numbers Lagos XU 39 KRD, Lagos XQ 647 MUS, Lagos XU 115 KSF and Lagos 417 FKJ, among others.
Also some electricity poles were damaged by the vehicles.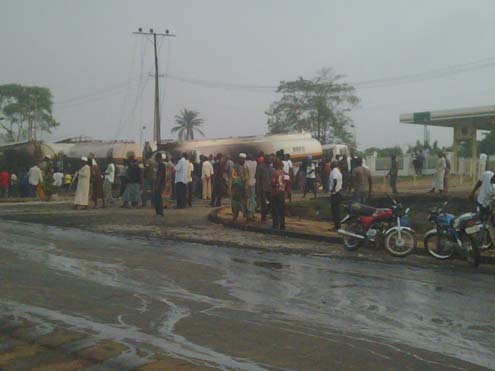 According to the NNPC Sales Manager in charge of Oyo and Osun Depot, Mr. Adebisi Adewale, and the station manager, Bello Victor, a truck with registration number: XQ 717 GGE conveying coal from Ojoo veered off its lane and hit a NNPC truck, attempting to park on another lane.
The NNPC truck, while trying to avoid the truck conveying coal, hit another NNPC truck which was fully loaded with petrol.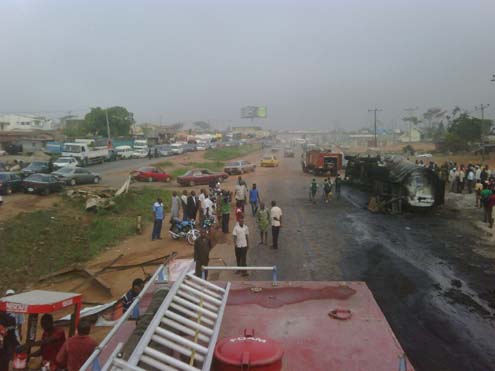 He said: "The petrol spilled on the road and caused fire outbreak. The fire began to spread from one vehicle to another. It also spread to a truck fully loaded with diesel."
Adewale added that Oyo State Fire Service was called immediately but did not turn up until 3 a.m. He, however, said they did their best to put out the fire.
He said nobody was injured or died.
According to him, what saved the situation was that the fire was prevented from spreading to the NNPC filing station and two other filing stations, Sycams and Keemrat filling stations.
When our correspondent visited the scene of the incident, men of the Oyo State Fire Service were trying put out the fire.
The incident scared residents at Iwo Road-Ojoo axis and Idi-Ape-Akobo axis, because of the continuous explosions caused by the fire.
Most of them said they could not go back to sleep out of fear that the fire could spread to their houses.
—Gbenro Adesina/Ibadan

Load more