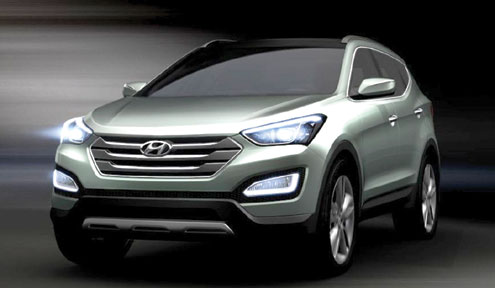 Hyundai Motor Co. has unveiled exterior teaser images of the all-new Santa Fe, which had been known by its code name DM in Korea. The all-new Santa Fe will have its world premiere at the New York International Auto Show in early April.
Based on Hyundai's design philosophy, Fluidic Sculpture, the new Santa Fe adopts its own design concept called "Storm Edge", which captures the strong and dynamic images created by nature during the formation of a storm.
The third-generation Santa Fe features sophisticated and refined lines, which are in harmony with bold and voluminous surfaces, completing a more aggressive and classic look than its predecessor.
So, the Santa Fe's new lines are bolder, with more voluminous surfaces and it loses the curves of what we see usually see, like on the Sonata. What is similar though is the hexagonal grille that is on the fascia of every Hyundai car on the market.
The new lines also aims to deliver a more premium image, which hints on the ambitions Hyundai has for its new SUV.

Load more