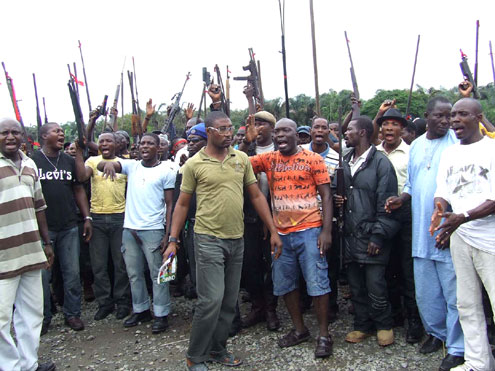 The National Assembly yesterday passed the 2012 Appropriation Act of N4,877,209,156,933 with a startling revelation that President Goodluck Jonathan allocated more money to the ex-Niger Delta Militants than the nation's critical health sector.
A breakdown of the budget shows that the Presidential Amnesty Programme for ex-militants has a recurrent expenditure of N66,176,411,902 while the entire health sector was allocated N60,920,219,702.
The staggering allocation to the ex-militants is separate from the huge amount also allocated to the Niger Delta Development Commission, NDDC, which is to gulp N48,673,424,630. In other words, the ex-militants and NDDC, which ought to create a conducive atmosphere to discourage militancy in the Niger Delta, were cumulatively allocated N114 billion.
The controversial fuel subsidy has the lion share of N888 billion followed by Works which is to gulp N244 billion.
Education, which is another critical sector of the economy, received only N66 billion, while Power was allocated N75 billion.
Transport is to gulp N89 billion and Water Resources N75 billion.
The 2012 budget, which was increased by about N228.3 billion after it was amended by the National Assembly, is predicated on a crude oil benchmark of $72 per barrel and a production output of 2.48 million barrels per day, as well as an exchange rate of N155 to the U.S. dollar.
After the passage of the budget, Senate President David Mark congratulated his colleagues for the quick passage of the budget and enjoined the executive to submit the 2013 budget to the National Assembly "latest by September this year, to enable us consider and pass it before the end of the year."

Load more