Amina Hamza is the eldest of the three children of the late former Nigeria international, Amusa Shittu, who died on Tuesday, 14 March, 2012 at the Gbagada General Hospital, Lagos, Nigeria. In this interview with BIMBO AJAYI, she spoke about her late father and other issues.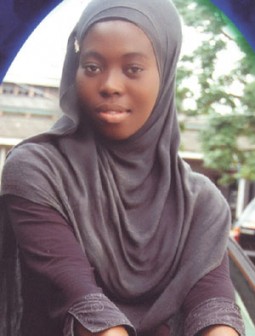 What happened before your father's death?
I feel very sad. His death was shocking , even though he had been sick since February.
I thought he was getting better since he had started to use his right leg, which he was unable to use when he had a stroke early this year. That is why his death is so painful. But in spite of this, I have consolation in the fact that he lived a purposeful life. The way notable people in the country have been thronging our house to commiserate with the family attest to this fact.
What did he mean to you apart from being your father?
My late father meant many things to me even after he has passed on. I will miss him greatly, despite the fact that we used to have the usual father and daughter arguments. However, the first thing I will say about him is that he lived a selfless life. He always put others before him because he believed that we did not bring anything to this world.
Therefore, nothing was too big for him to give out to those in need. He used to attend to other people's problems as if he had no problem of his own. Though he died a pensioner, he tried his utmost to make life easy for me and my other two siblings.
My late father was a carefree person and couldn't hold grudges against anyone.
He would go to any length to make up with any person that he had a misunderstanding with. In fact, I know that I would definitely have more pleasant comments to make about him if he had lived longer than this.
How do you feel that your late father was a national icon?
I have no doubt that he was a national hero being a former Nigeria international. As I said earlier, I am totally surprised at the way important dignitaries have been coming to pay their respects. And I know that this is how my younger siblings also feel about the man.
To be honest, I am somehow indifferent about my father's fame even when he was alive. I believe he was famous because he maximised his talent. And I believe that my fame could surpass his own if I am ready to work hard.
How do you think the government could be of assistance to retired sportsmen?
There are many ways that the government can be of assistance to retired sportsmen in the country. The government must be ready to assist them financially because these people have also used their strength for the country.
I believe it is appropriate that the government reciprocates their efforts by taking care of them and their families when they can no longer work.
Can you allow your child to pursue a career in sports?
I can allow my child to pursue a career in sports if he or she is gifted. But I will make the child realise that his or her education must be of highest priority.
I will make the child understand that he needs something to fall back on when he retires from sports.

Load more