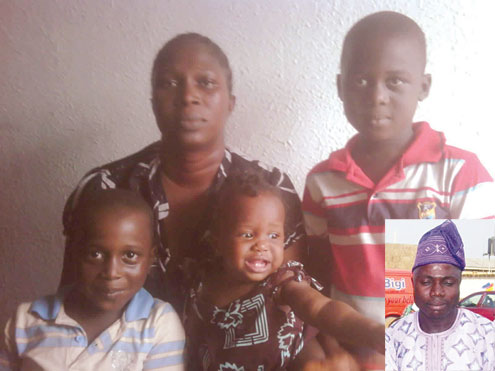 Weeks After Adedeji's Death In Police Custody, His Wife, And Three Children Are Yet To See His Corpse
More than a month after Mr. Ademola Lawrence Adedeji was arrested by the police on 9 February, 2012, and confirmed dead the same night while in police custody, his wife, Cecilia and their three children are yet to see his corpse, the distraught wife told P.M.NEWS recently.
In an interview in Lagos, southwest Nigeria, 38-year-old Cecilia Adedeji, broke down several times as she narrated her travails since her husband was confirmed dead barely two hours after she left him hale and hearty at Area 'F' Police Division, Ikeja, Lagos, on 9 February.
"I have not seen my husband's body. None of my family members has seen his corpse. Media reports about police taking family members to the mortuary to see my husband's corpse are blatant lies.
"Which family members are they talking about when I am yet to even hear from the police?
"How do I even begin to explain that I was with my husband at about 9p.m. on 9 February 2012 at Area 'F' Police Division and I rushed home to look for the one million naira bail the police requested, only to hear that he suddenly took ill and died two hours later?" Cecilia told P.M.NEWS, tearfully, as her one-year-old daughter, Christianah Adedeji, watched.
"I was a full time housewife, taking care of our three children whose ages are one, five and seven years old.
"Demola was our breadwinner and now that he's dead, we are finished. Our children have stopped going to school. We ran away from our home because we are scared that they may come and kill us. We now live here and there from hand to mouth," she said.
Her husband was the CEO of Demola Store, a major distributor, since 2008, of Rite Foods Limited, a company located at Adebola House at Opebi, Lagos.
His distribution area, it was learnt, covered Lagos and Ogun State, Ghana and Benin Republic in West Africa.
"Our client's husband had proven himself as a seasoned businessman in the trade of distributing solely the company's products since 2008 and had severally earned himself many awards and gifts from the said company in appreciation of his efficient and meritorious service delivery in the distribution and sale of the company's products," her lawyer, Barrister Clement Eko of Chief Lanre Adeniyi and Co. told our correspondent.
"One of such recognitions earned by our client's husband from the company was his emergence as The Best Distributor for the Year 2010 after hitting the company's sales target of over N250 million for the year under review," the lawyer added.
That might have been true until late last year, Rites Food Limited said in a statement released at a conference in Lagos.
The statement, signed by Mr. Adeniyi Obafemi, Personal Assistant to the Managing Director Rite Foods Limited, described Mr. Adedeji as one of their "cash and carry" customers who was given some credit facilities but issued dud cheques when the time for payment came.
"There was a specific request for a credit facility increment in late last year to help him participate in the Redeemed Christian Church of God and Deeper Life Church conventions, for convenience sake, to pay after the convention. This was requested in writing by the deceased in person and was approved.
"After the convention, to our surprise, the deceased did not honour the terms of agreement, claiming that all customers and churches did not pay him. He had issued four dud cheques totalling N7,918,150," the company said.
The company said that it assigned a customer care staff and an accounts personnel to follow up the matter.
"After two weeks, it was obvious and clear that all the claims were not true and nobody owed him," the company said.
The police was called in when dialogue failed and Adedeji landed in Area 'F' Police Division where he died on 9 February at about 11 p.m. a few hours after he was brought in hale and hearty.
The police said he slumped and was rushed to the Lagos State University Teaching Hospital for treatment, but died on the way.
The hospital told this reporter that Adedeji was brought in dead and only an autopsy can determine the cause of death.
Mrs. Adedeji alleges that her husband was murdered by the police and that Rite Foods Limited was involved in the matter.
The police have denied these allegations and Rite Foods Limited wondered why it would have killed a man who owed the company close to N8million.
At the time of filing this report, it was learnt that ASP Solomon Igwe, the IPO from the police headquarters, Abuja, had arrived Lagos to take up the matter from Investigating Police Officer, simply known as Dave.
Meanwhile petitions have been sent to the Lagos State Governor, Babatunde Fashola, President Goodluck Jonathan and the Speaker of the House of Representatives, Aminu Tabuwal, even as Mrs. Adedeji is demanding that N700million be paid to her and her children as damages while a post-mortem should be conducted to determine the real cause of the death.
As all this goes on, one-year-old Christianah Adedeji, Mojolaoluwa Adedeji, 5 and Temiloluwa Adedeji, 7, may have to wait for years before their lives can get back to normal.
—simon ateba

Load more