Controversy and confusion have trailed the death of an Egba High Chief, Apagun Stephen Oluwole Olumide as some people believe his sudden death needs to be thoroughly investigated before his remains are interred.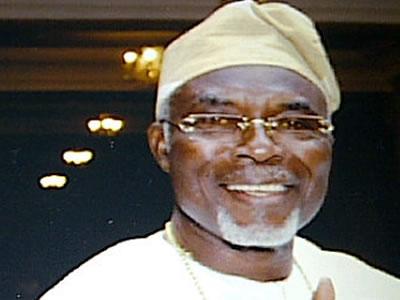 P.M.NEWS had earlier reported the death of the prominent Egba Chief, a bosom friend of the former governor of the state, Otunba Gbenga Daniel. Report had it that he would have clocked 70 years in May this year and he was suspected to have committed suicide by plunging into an artificial lake, Lake Toria, at the Golf Resort in Abeokuta last Friday. The lake was built by the deceased as part of the Golf Resort project.
This afternoon at his residence in Surulere, Ita Eko, Abeokuta, the Ogun State capital, southwest Nigeria, a few metres away from the residence of the former President of Nigeria, Chief Olusegun Obasanjo, security was beefed up as people, mainly his political associates, thronged the place to pay their last respects as his remains will be interred this afternoon.
As at the time of filing this story, the corpse of the Apagunbote of Egbaland, was still being expected at his residence.
The daughter-in-law, Architect Bisi Olumide, was seen sitting with some of her friends while the children led by the first child, Femi, were still worried over the sudden death of their father.
The corpse of the high chief was deposited at the mortuary of Neuro Psychiatric Hospital, Aro, Abeokuta, where it was gathered that an autopsy will be carried out on his remains.
A family source who pleaded anonymity, told our correspondent late last night that the issue of his burial today was still a subject of an emergency meeting slated for today.
"It is true that we concluded that Apagun should be buried tomorrow(today), but some of the family members are still insisting that the result of the autopsy be received before we bury him. This issue was discussed this evening (yesterday) and we have agreed to further discuss the matter first thing tomorrow morning. I will get back to you tomorrow," the source hinted last night.
When our correspondent visited the residence, a white mansion with black gate named 'Toria House' in the evening yesterday, some men were seen digging the grave where his remains will be buried and a grey Mercedes Benz hearse with customised plate number TOS 5 was seen conveying a casket.
Commenting on the issue of a text message reported to have been sent to some people before his sudden death, one of the family members disclosed that he had not seen the message but read it as news just like other Nigerians.
"I cannot say anything concerning the text message. I heard it in the news as every other Nigerian. Someone around here was just telling me now that the message was also sent to his son, Femi, and I can't say how far that was true. But all the same, whether he sent text or not, he has died and I don't think that he wrote there why he did what he did. To God be the glory, he came, he saw and he conquered. May his soul rest in peace."
Investigation conducted around the area this morning by our correspondent showed that all is not well within the family members as some were still insisting to see the result of the autopsy before he is buried. But we gathered that the burial would go ahead as planned.
According to a female member of his family, "it is true that people are saying a lot of things, but what I know as a good Christian is that destiny can never be changed. It has been written that he will end his life in such a mysterious way. We have decided to leave everything to God as we don't suspect any foul play from any quarters. God giveth, God taketh, we should allow him to begin his last journey to eternity rather than causing unnecessary confusion among ourselves."
Some prominent people who had already arrived for the burial ceremony of the late socalite include, Gbenga Daniel, the father of the former Speaker of House of Representatives, Pa Alani Bankole, Niyi Adegbenro, Elder Joju Fadairo, Mrs Folake Marcus-Bello, Chief Soboyede Okanlawon, Justice Olukayode Somolu, Prof. Olufemi Olaiya Balogun, Vice Chancellor, UNAAB, Abeokuta, past local government chairmen in the state, past commissioners, political associates, members of Nigeria Golf Federation which he was a member during his lifetime, and relatives.
As at the time of filing this report, no government representative was seen at the burial.
—Abiodun Onafuye/ Abeokuta

Load more