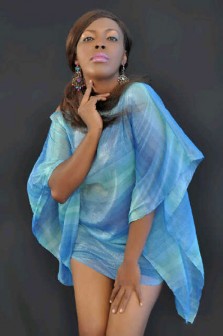 Cross over actress, Celine Dimas, who recently released a female version of D'banj's Oliver Twist hit song says she is not in the music industry to compete with anyone.
Celine, who has already established herself as a promising female entertainer, said her mission in music is to make a statement, not compete with anybody.
The Imo State born diva said "Honestly, I'm not doing music to compete with anyone, and whoever tries to compete with me is doing so at his or her own peril because I'm just doing my thing. In showbiz, originality matters a lot, I'm original and nobody can be like me, just as I cannot be like anybody."
Asked if she is aware of competition in the music industry, Celine said: "In every aspect of life, there will always be competition, but your natural talent and packaging will make the difference. I think I have all what it takes to survive in the industry without cutting corners.
"Singing is just another part of the natural talents I have, and within a very short time, I'm optimistic that that the sky will be the starting point."
Celine, who is currently in the studio working on new songs, says her video will soon hit the airwaves.

Load more