In 2009, I boarded a plane at the Murtala Muhammed Airport in Lagos, southwest Nigeria.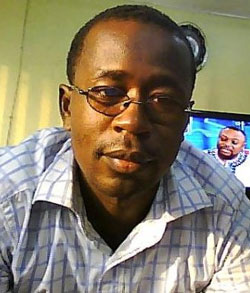 The pilot moved the twin-engine up to 33000 feet above sea level, tore through the sky and an hour later we landed at the Nnamdi Azikiwe International Airport in Abuja, Nigeria's capital.
Then, began a six-state fact-finding into the activities of Boko Haram, the Muslim fundamentalist sect now terrorising Nigeria.
In Abuja, I spoke with some pretty girls who claimed they knew the sect leader, Mohammed Yusuf, but it turned out the ladies only wanted to get an ice cream and some chicken with fried rice at Ceddi Plaza from a journalist's meagre income.
I scurried to Kaduna and spoke with some people. Then rushed to Kano and interviewed some Muslims with inside knowledge. Then got some northern clothes and dressed like Fulani men and moved to Bauchi, one of the dangerous havens of the sect.
Journalism is a crazy profession, interesting but a bit less rewarding, considering how journalists stake everything, including their lives to report stories. It's the story generally in this gloomy continent called Africa where reporters and editors earn crummy salaries.
In Bauchi, I needed a safe hotel and paid a visit to Zaranda Hotel, a 10-storey building with rats in most rooms and no electricity or running water in the rooms.
I retreated and lodged in a hotel run by adventurous and courageous Igbo boys. I slept with one eye open wondering whether I would be alive the next day because of the high state of insecurity.
Northern Nigeria was on fire, the army and police had just shot dead more than a thousand extremists in reprisal killings after they attacked police stations, schools and churches.
I had spoken with some people that day and in the morning at 7a.m, I was seated in a bus heading to Maiduguri.
We traversed many states and saw people waking up, children going to school, farmers rushing to farms and as we kept travelling, we saw them heading back home, going to bed and switching off their lamps in the evening.
About 12 hours later, we got to Maiduguri, the Borno State capital and headquarters of the Boko Haram sect.
I first headed to Mr. Biggs and got some chicken with rice, my favourite, wondering whether it would be my last meal. I slept in a hotel that belonged to an ex-soldier. I felt safe but still said my prayers that night and in the morning, I said another prayer and headed to Railways Terminus, the headquarters of the sect.
It was now taken over by the police and the army. I negotiated my way inside the camp not without giving away some cash for easy access. There were mangled items in the area, burnt houses, broken and burnt computers, it was a disaster zone.
Then I headed to Jerusalem, a place where most Christians there had built their churches. It was a devastation. Sect members had burnt churches to the ground and shot many Christians dead. I saw burnt churches as far as the eyes could see. I wept. I told the bike man not to stop, to keep moving , to keep the engine running as I took pictures from the bike. I stopped a few times and did an interview through a small window still sitting on a bike.
The pastor who survived the attack did not want to come out, not was he sure who I was, and not knowing where the next bullet might come from.
The Christians I spoke to did not want their names mentioned. Most of them did not even trust the government in place. Fear was palpable everywhere.
As I was there, seeing all I had seen, I was wondering how did Boko Haram operate so freely in such a vast expanse of land unchallenged by security agencies? It was as if a fierce war had just been fought in the area, given the extent of destruction that had taken place and number of lives lost.
Why did the Borno State Government allow an organisation that was preaching hate against Christians and secular form of government to grow, spread and arm its members?
Even after a former commissioner joined the ranks of the sect, why wasn't anything done to curb its activities?
Why did the government wait until churches, police stations and schools were set ablaze before it feebly intervened?
Where was the State Security Service? Where were the police? Where were the activists?
More than two years after, as Boko Haram spills blood and cuts short the lives of innocent people, the same questions still haunt me day and night.
•Ateba is a Senior Correspondent with P.M.NEWS. Email: [email protected] Phone: 08060782856

Load more