This man, 42-yr old Liasu Sakiru, resides at Okuluku Quarters in Ado-Odo, Ogun State. He was kidnapped and was about to be killed by his captors when luck smiled on him. He narrated his ordeal to Oluwole Adeboye and Dedeigbo Ayodeji: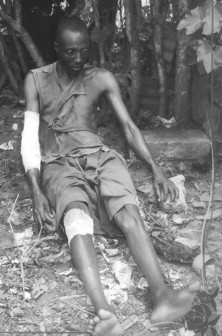 I am a palm kernel buyer, I went to the farm at Igemu village via Ado-Odo, Ogun State, to pick my uncracked palm kernel. And on my way back home at about 4.pm I met two boys, Azeez a.k.a Ishan and Muyideen, his Elder brother and they ordered me to come down from my pick up van with registration no XA 164 FST. They asked me of my identity card and my response was that I had none, that I got my licence from the Ministry of Agriculture, Abeokuta. Suddenly Azeez, said "your chairman Adebisi Ajiboye has reported you that you were stubborn and we shall deal with you." From there they started beating me and took me on their motorcycle which had no number plate from Ago-Sango to Ido-Ilehin and as they carried me Azeez asked for my phone and I said it was in my pick up at Ago-sango where they stopped me".
Muyideen went on Okada to the Pick Up leaving me and Azeez; behind to bring my phones. When he returned he said he got N13,000 and two mobile phones. He asked if that was all I had and I replied that I had more than what they brought. And the three of us went on the same Okada. As we got to Ido-Ijana, I raised the alarm to draw the attention of people, I called the name of Iya Akeem, whom I know too well saying, 'E gba mi o', meaning please save me. Then, they said they will kill me, that I should say my last prayers and they changed into another route towards Aisuwe Village, Wesunme. They asked if I know anyone in the village and I said that is my mother's village but I was lying and they asked me again to give them three names of people I know there. I did, using my initiative to just list any name that came to mind.
They didn't wait and I was taken to another village to say whatever I wanted to say before they will kill me. I just kept quiet, wondering how I could escape from them. They said "you do not have identity card, you were among those who killed our mother at Babalawo village, Ido-Ilehin." On the way when they were about to kill me, they met a man whom they knew and greeted, I don't know why but they asked the man if he knew me and the man's response was that he knew me and that am a relation of his. That was how I was saved by that good Samaritan after being tied and beaten severally. After being rescued I was taken to Isanyin village where I was recognised as Alhaji Liasu's son, I was helped to treat the bruises and my leg and hand were bandaged. I am an Egbado man and because Awori people and Egun people are fighting they just keep killing people.
P.M.NEWS investigation revealed that the incident was reported at Ado police station and the suspects were arrested. The police investigation officer is Dotun;attached to Ado-Odo Division, Ogun Sstate. A young man called Olufemi Dada was abducted on the farm and killed. Up till now, his corpse was yet to be found. The police are also investigating that and the one involving the two suspects who have since been charged to Ado-Odo Magistrate's court and were granted bail.
—Oluwole Adeboye/Dedeigbo Ayodeji

Load more