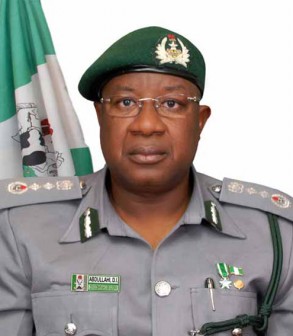 Justice Yetunde Idowu of the Lagos High Court, Ikeja will tomorrow give judgment in the suit instituted by Festus Keyamo, seeking for an Order of Mandamus compelling the Attorney-General to initiate criminal proceeding against the Comptroller General of Customs, Alhaji Abdullahi Dikko, of an alleged certificate forgery.
In reply to Keyamo's application, the Lagos Attorney General (AG), Mr. Ade Ipaye had urged the court to refuse Keyamo's application on the ground that it lacks merit as the applicant has failed to allow the police to investigate the matter.
He added further that the applicant's client and the complainant, Olajide Ibrahim, did not honour the invitation extended to him by the police to enable them commence investigation into the allegation raised in the application
The AG asked the court to strike out paragraphs containing such allegations against the Directorate, contending that the applicant's averment in such paragraphs were conclusions which he said violated the provision of Section 115 of the Evidence Act that only facts and the description of circumstances could be stated in an affidavit.
"Having regard to the facts of this present application, I know for a fact that the respondent is awaiting the report of investigation in order to decide whether an offence has been committed as the Applicant's investigations do not include the evidence of witnesses who are material to establishing the case of prosecution."
Keyamo however in his argument accused the Lagos State Directorate of Public Prosecutions of covering up an offence of certificate forgery allegedly committed by the Comptroller General of Nigerian Custom, Alhaji Abdullahi Dikko.
He urged the court to reject the DPP's excuse of lack of sufficient evidence to prosecute Dikko for the offence, praying the court to grant his prayer contained in his Motion on Notice, seeking an order of Mandamus to compel the DPP to prosecute the Customs boss or be allowed to personally do so.
Keyamo in an affidavit dated January 24, 2012, filed in support of his Motion on Notice, alleged that if the DPP were to be sincere to its duty, it would have written a letter to the institutions which purportedly issued the allegedly forged certificates.
"Contrary to the deposition of the respondent in paragraph 8 of counter-affidavit, the proof of evidence directly reveals a prima facie case against Alhaji Abdullahi Dikko and that the Director of Public Prosecutions is merely covering up crime glaringly committed by Dikko.

Load more