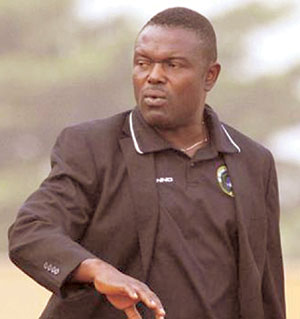 Head Coach of Dolphins Football Club, Stanley Eguma, has vowed that his team will crush Coton Sport of Cameroon as the two teams trade tackles in the first leg final round of the CAF Champions League match billed to hold tomorrow at the Liberation Stadium, Port Harcourt.
Eguma said that the match will serve as a wake-up call for the club after their poor results in their last two matches in the Nigeria Premier League, NPL.
"We want to use tomorrow's match to relaunch our team after our losses in the last two NPL matches. The two losses will no doubt spur us to victory when we play the match tomorrow," said Eguma.
The coach added that all hands are on deck in the camp of the Port Harcourt-based club in order to secure nothing but victory in the Champions League match.
"The spirits are very high in camp and the players are ready to go all out to beat Coton Sport tomorrow. We are determined to give our best in the match in order to secure the needed victory tomorrow," said Eguma.
The coach complained about the crowded NPL fixtures, saying it will hinder the club's performance on the continent.
"It is unfair to us the way the NPL has cramped up our matches. It is not good for us to be playing every 48 hours. I think the NPL should look into this it if it wants us to give our best on the continent.
"Playing a match in every 48 hours is telling so much on the players. The NPL needs to realise the fact that these players are human beings and deserve to have enough rest in order not to break down," added Eguma.
—Bimbo Ajayi

Load more