Domnic Iorfa, the Chairman of Lobi Stars Football Club of Makurdi, spoke with BIMBO AJAYI at the Emma Akume Atongo Stadium, Kastina Ala, Benue State last Sunday, after the club's 2-0 defeat of Dolphins Football Club Of Port Harcourt. The former Nigeria international spoke about his club's exploits in the Nigeria Premier League and other issues.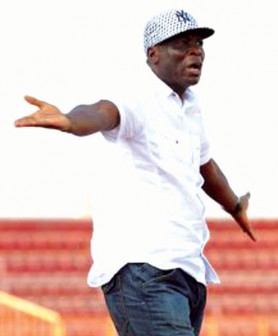 You introduce gate fees in your league match against Dolphins, this is strange?
The truth is that the stadium cannot be fully secured when you throw the stadium open for everybody. We introduced gate fees because the security of our fans is paramount to the club's management.
The management does not want a situation where the security of our fans cannot be guaranteed. That is why we are forced to introduce gate fees of N100 and N200 to watch our matches. Aside from this, we want our fans to be comfortable everytime they come to watch our matches. And it is obvious that we are all comfortable today because the stadium is not jampacked.
Why did you choose to play your home matches on grass when most clubsides are playing on artificial turfs?
It is true that all the away matches that we have played this season were played on artificial turfs, but most footballers don't like to play on artificial turfs. We put our players into consideration before we decided on the kind of turf to use for our matches. We want people to know that it is our love for the game that prompted us to play our home matches on grass and not for any other reasons.
What is the club management doing to make the turf better than this?
We have been doing our best to make the grass suitable for league matches. We always wet the grass 10 to 12 times a day. The main challenge that we are facing at the moment is that we are still in the dry season especially in the northern part of the country. This stadium will be ready for good football in two months' time.
What is the situation in your camp?
The spirit in camp is very high because the players are ready to give their best to every match they play. The results of our matches with Enyimba and Dolphins, which are big clubs, can attest to this fact. We are looking forward to the matches ahead. We are assuring our fans that we are ready to make them proud in all our subsequent matches .
How will you describe the officiating of your match against Dolphins?
The officiating was very good. I have no complain about the match because the officiating was perfect. The referee gave both teams a level-playing field to express themselves, and the better team won the match.

Load more