Folorunso Busayo Philips, popularly known as Flip Tyce, is one of the most sought-after music producers in Nigeria who has worked with virtually all the relevant artistes in the country. He spoke with P.M.Entertainment about his career, the music industry and other issues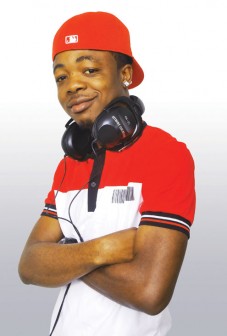 How do you feel being the most sought after music producer at the moment?
Actually, I feel great because this is something I have been dreaming about for years and it's like a dream come true.
Tell us how the whole thing started before it got to this point?
It started in 2004 when I was admitted into the university and I started producing on my laptop, trying to make a living in my own little way. I even used my school fees to get studio equipment, it wasn't easy but I was driven by that force to be successful in the industry.
Can you recollect the first production you did?
My first major production was a song titled Oju Ti Ti Won by Danny Young in 2009. As you know, it was a big hit.
Why did it take you so long to produce a hit?
Actually, it was because I wanted to finish my school and add that to my curriculum. After the success of Oju Ti Ti Won, I paused for a while to focus on my education. I'm back fully now.
You studied Geology at the University of Ado-Ekiti. How did you combine music production with school activities?
It wasn't easy but I thank God I was able to grab something in class and I was always reading and you know music is a hobby and not something you can jump into. So I thank God I was able to combine music and school activities effectively. I'm a brilliant person, so even if I didn't attend classes, I could read and understand even better than those in class. And trust me, I graduated with a very good grade.
The Nigerian music industry has metamorphosed in the last 10 years. How will you describe the change?
Actually, when I started, producers were not well known and rewarded, but now I think there is a difference because a lot of producers are making money in the music industry, unlike the time of OJB Jezreel, Plantasion Boiz and all that.
Is the Nigerian music globally recognised?
Yes, because a lot of Nigerian artistes are being signed on international record labels like the one I produced for Akon and P-Square, and I think if Nigerian music is not globally recognised I would not have had the opportunity of producing for Akon and P-Square.
Content wise, do you think Nigerian music has really lived up to its billings?
There is no content in most Nigerian music because a lot of producers just want to make money. In America, music producers are more concerned about quality and content of music, and that is why they produce more evergreen songs. But I think in a matter of time and with a good structure, we will get there as well.
What do you think is the major bane of the music industry?
I believe it is because we don't have independent recording labels. In the U.K, you will see about three to four producers coming together to produce a particular song but in Nigeria it is difficult and then producers are not willing and ready to learn from their mistakes and to make amends.
What other factors do you think is affecting Nigerian music?
The capital and our mindset are the two major factors that are affecting the success of Nigerian music. This is because we Nigerians are not thinking of what we can contribute to the industry; most people are only interested in what they stand to gain and the industry cannot survive in such a situation. But I believe with the help of God we can make it to the top.
The number of Nigerian artistes continues to increase by the day, how many of them do you think are actually talented?
I will say 50 percent of them because there are many charlatans in the music industry who are singing probably because their friends are singing and they believe they can also sing. But the truth is that people like that cannot stand the test of time. They will rush in and rush out, that is for sure.
Don't you think producers too should share part of the blame?
Yes, I think so, but the truth is that most Nigerian artistes are not composing good songs and this is why producers are not ready or encouraged to share ideas, feelings, thoughts and emotions, particularly with the upcoming artistes. But, we have a couple of them (upcoming artistes) doing really good.
Your biggest production so far is P-Square's Chop My Money track which features Akon. How do you feel achieving such feat?
As I said earlier, I will say it was like a dream come true because it is something I have waited for so long to achieve and it has really stepped up my profile.
So do we see you doing more international productions?
Definitely, I will embark on an American tour soon, and part of the plans is to do more international productions. My management team are already concluding arrangements on that.
—Bayo Adetu & Anthonia Ohiero

Load more