No more would 'expired' politicians hold Edo State to ransom. This was the declaration of the state governor, Comrade Adams Aliyu Oshiomhole while addressing the state workers who thronged the Ogbemudia Stadium, Benin City, Wednesday to register their support for his second term aspiration.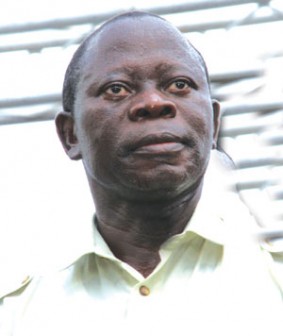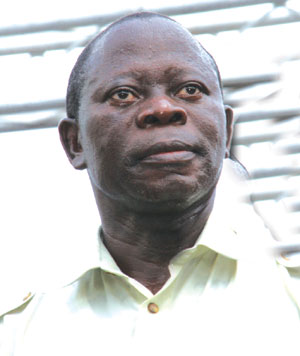 Comrade Oshiomhole stated that when he signified his intention to govern the state five years ago, many doubting Thomases were of the view that outside his leadership of the Nigerian Labour Congress (NLC) he doesn't have what it takes to govern the state successfully.
He said that with what his administration has been able to do within the three and half years that he has been in office, most of them have started withdrawing their earlier comments.
Comrade Oshiomhole stressed that he would forever be a labour activist no matter his status in the society, adding that he has been able to do so much within a short time in office because he has his integrity to defend.
He recalled that what he met on assumption of office was the embargo the previous administrations placed on employment. He affirmed that with the state now becoming a massive construction site he can only do more when he returns to office for a new tenure.
Earlier, erstwhile NLC presidents, Comrade Hassan Adebayo Sunmonu and Comrade Ali Ciroma in their separate speeches condemned the antics of some politicians who wanted to frustrate the event by obtaining 'funny' court injunctions to stop it from holding.
They appealed to the people of the state, especially the workers, not to be fooled by such antics and to go ahead and commence a process of enlightening others on the need to vote for Comrade Oshiomhole so that he can continue his giant strides in all facets.
Also speaking, incumbent NLC President, Comrade Omar Abdulwaheed extolled the achievements of Governor Oshiomhole since he assumed office, saying that he has not let his constituency, labour, down. He charged the people of the state to ensure that he is voted back to the state Government House on Saturday, 14 July, 2012.
Among others that graced the occasion were Comrade Peter Esele, President of the Trade Union Congress (TUC); Comrade Ademokun and other labour leaders
from the neighbouring Delta State.
—Isaac Olamilekan/Benin

Load more