Barely a week after the finger of Yinka Oyedele, a JSS3 student of Eric Moore Secondary School, Surulere, Lagos, was cut off by an SS1 student of Surulere High School, another victim has lost his finger to assailants.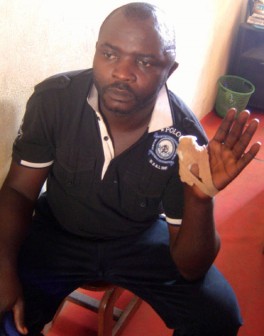 The victim, a trader at Ladipo Market, Mushin, Lagos, 37-year old Ofoka Nnaji was attacked by suspected thugs who were allegedly hired by a faction of the traders' union at the market.
The attack on Nnaji has rekindled the violent attack on traders by thugs at Aguiyi Ironsi International Trade Centre at Ladipo market Mushin, Lagos State, Southwest Nigeria.
The latest attack on Nnaji was by the same thugs that allegedly attacked the Chairman of Mushin Local Government area, Mr. Babatunde Adepitan, recently.
Nnaji claimed that the men who attacked him inside the market used cutlasses to cut him on the head and other parts of his body before they cut off his finger and took it away.
He is pleading that his cut off finger should be returned to him so that he will bury it.
Nnaji said he went to the market with the hope that the Lagos State government had finally made peace with the warring factions after the Memorandum of Understanding, MOU, was signed. Unknown to him, there was a group opposed to the peace initiative by the state government through the Ministry of the Environment.
He said immediately he went into the market on Thursday, he was identified by thugs he claimed that were brought from Southeast.
The victim said they accused him of opposing Chief Jonathan Okoli's leadership and started beating him. He was macheted and his finger was cut off and taken away.
Mushin Council boss, Adepitan had alleged that it was Okoli that brought those thugs who attacked them because he did not want peace in the market.
He explained that the MOU was painstakingly made for peace to reign in the market and was accepted by the market stakeholders. He expressed shock that Okoli who was part of the peace deal pulled out and started fomenting trouble.
Okoli has denied sending thugs to attack anybody.
Recently, Adepitan and some Lagos State government officials comprising the Nigerian police and soldiers were attacked and chased away by a group opposed to peace in the market.
Adepitan insisted that the MOU must stand and reiterated his commitment to bringing peace to the market.
He said that Governor Babatunde Fashola, the State House of Assembly and all the security agents are aware of the matter and very soon the problem will be solved.
—Cyriacus Izuekwe

Load more