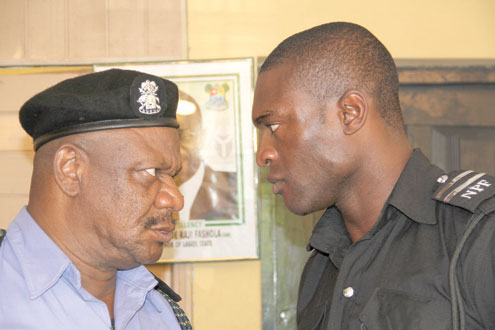 Elvis Chuks' all-star movie, True Citizens, is set to hit the cinemas on Good Friday, 6 April, 2012.
Lovers of Nollywood are therefore set to have a delightful Easter celebration as the movie features a host of stars which include, Uti Nwachukwu (BBA all Stars Winner), Alex Usifo, Brian Okwara, (Ex Mr. Nigeria), Clareth Onukogu, (Miss Nigeria U.S.A), Kenneth Okolie (Mr. World 2nd Runner Up), Clara Iweh (Face of Unveil) and Melvin Odua (Mr. Nigeria 2011, 1st Runner Up) among others.
The movie reflects the spirit of the true citizens who can make it through hard work instead of meddling in illegal practice. True Citizens is a movie that centres on youths, their dreams, aspirations and objectives.
According to the producer of the movie: "It was very interesting having all these people in one movie. People were asking how I was able to bring all these guys together? But we thank God we are through with the production. We will hit the cinemas soon and we like the response so far. We believe that every Nigerian youth will have one or two things to learn from this movie."
Three of the cast of the multi-million naira flick shared their experiences:
It Changed My Opinion About Police —Kenneth Okoli
How has life been after Mr. Nigeria and Mr. World?
I have been very busy. It has been a blissful experience. I am an actor, a model and I run my own event management company. The pageant has given me a platform to make some dreams come true.
What are the pains and gains so far?
I have lots of gains because I have landed so many movie roles. I have landed good jobs and I've started my own firm. It's been a lot of achievements.
You are one of the casts of True Citizen, how did you get the role?
True Citizen is a very intelligent movie. It's a great story that relates to the situation in the society. I acted the role of Solomon who was a police officer and you know the police have a bad reputation here in Nigeria. Sincerely, prior to the role, I didn't like the police. I portrayed their reputation. They are also called to serve and there are good ones among the bad eggs. These are the good citizens we are celebrating.
A Wonderful Experience — Melvin Odua
How is life after Gulder Ultimate Search 6?
It has been awesome. We thank God for everything. Youth in Nigeria have the culture of moving on to achieve certain things. So far, so good, it's been good for me.
For instance, the production we just finished, True Citizen coming to the cinemas soon. It's just a stepping stone for me. A lot of special things will be coming out from me soon.
Is this your first shot at the movie industry?
No, this is not my first shot. I delved into movie when I featured in Happy Family. Though it is a soap opera, that was my first major work and I got a lot of support. That is what brought me into limelight.
Any award so far?
Yes. I actually just won an award recently.
How did you get the role you played in True Citizen and which particular role did you play?
After I did Happy Family which is a soap opera and also won an award through it, I came for the casting and I met the demand, so I was given the script. I played the role of Akpos.
It's Worth The Millions — Elvis
What inspired true citizen?
My script writer, Kunle Salau brought it to my office as a family story in the original script concept and I sent it to script writing screening in South Africa. The review was good and actually motivational for the youth, especially in places where youths have to struggle against all odds to stand out without soiling their hands. I said it is okay and I felt it will be good to use people that an average Nigerian will see as role models. That is why we used the likes of Uti, Brian, Kenneth and Melvin. They are people every youth wants to emulate. So with that we will be able to achieve the aim of the script, and at the same time pass the message to the youth.
You are well known in Super Story, how does it feel to produce and direct?
I feel blessed. I feel blessed that I am able to impact my generation and the next generation. I do not see any difference being in front and behind the camera; what matters is the desire, drive and love you have for what you do. That is what makes the difference.
Tell us the secret behind your success?
Knowing what you want, getting the right people to interpret whatever role. People who are going to see this movie will marvel at the actors displaying their skills. They would be shocked with what they would see.
How much did it cost you to produce this movie?
I can't tell because we spent close to two months on location. So, I have lost count of how much we spent on the movie. Uti has to go for JARA show, so you can imagine how we had to shoot slowly and get the interpretation.

Load more