His ball safely over the water, Tiger Woods walked toward the 18th green yesterday as he had done over the last 30 months on the PGA Tour, with one big difference.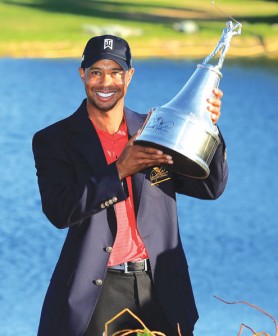 Obviously, Tiger is back from the woods. There was no mistaking that smile. "Pure joy,'' he said.
Woods finally brought the buzz back to the very thing that made him famous – winning.
Two weeks after another injury scare, Woods looked dominant as ever in that bright red shirt to win the Arnold Palmer Invitational at Bay Hill. It was his first PGA Tour victory since a sex scandal at the end of 2009 led to one of the greatest downfalls in sports.
And with the Masters only two weeks away, Woods looks more capable than ever of resuming his pursuit of Jack Nicklaus in the majors.
Woods closed with a 2-under 70 and won by five shots over Graeme McDowell.
"I think he really just kind of nailed home his comeback,'' McDowell said. "Great to have a front-row seat watching maybe the greatest of all time doing what he does best – winning golf tournaments.''
Woods had gone 923 days and 27 tour events since he last posed with a trophy, and it showed.
Kneeling to look at his line as he waited his turn to putt on the 18th, Woods tapped his putter on the ground and could barely contain a grin, knowing that the longest PGA Tour drought of his career was about to end. When he tapped in for par, he clenched his fist, screamed out, "Yeah!'' and hugged his caddie, Joe LaCava.
Walking off the green, Woods extended his black cap for a sweeping wave toward the gallery.
"It's not like winning a major championship or anything,'' Woods said. "But it certainly feels really good.''
The question two weeks ago was when he could play again. Now, it's whether he can get back to being the player who once ruled golf. It was the 16th time in his career that Woods has won by at least five shots, and it was the largest margin of victory on the PGA Tour since Rory McIlroy won the U.S. Open by eight.
Woods downplayed the significance of Sunday, pointing out on more than one occasion that he considers it his second win since the scandal. He counts the Chevron World Challenge last December, when he went birdie-birdie to beat an 18-man field of top-50 players.
But this was significant – a PGA Tour event with a full field, and a strong field at that. And with a performance so clean that he was never seriously challenged on the back nine.
''I've gotten better, and that's the main thing,'' Woods said.

Load more