Portsmouth manager Michael Appleton is not expecting veteran strikers, Nigerian Nwakwo Kanu and Benjani, to play a part in the club's fight for Championship survival.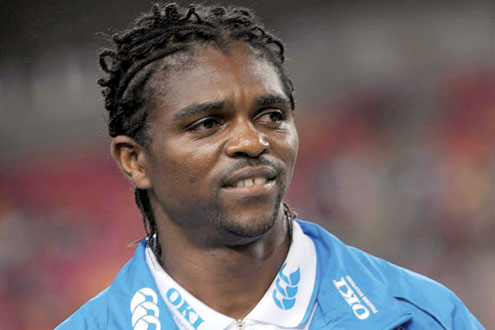 Benjani has scored once in 17 appearances for Pompey since returning to Fratton Park last summer, but is yet to start a game under Appleton.
Kanu, meanwhile, has not even made an appearance since Appleton became manager at Portsmouth back in November.
Pompey are six points from safety, but Appleton is not planning to use the pair's experience after suggesting Kanu and Benjani are not fit enough to start games.
"I certainly wouldn't be expecting too much from Benjani and Kanu in the run-in," said Appleton.
"Kanu is not fit enough to play – end of story. From Benji's point of view, he has been involved enough and come off the bench enough to ask questions on why he might not get a start.
"I can't afford to start playing players who I don't think will get through 45 minutes of football."
It would be recalled that Kanu was a free agent following his departure from West Brom, and he signed for Portsmouth on a one-year deal shortly before the start of the 2006–07 season. Pompey had undergone a revival in the second half of the previous campaign, following the return of Harry Redknapp as manager, avoiding relegation by four points after being in serious danger at the turn of the year. At the start of the 2006–07 season, they were undefeated in their first five games, during which they did not concede a single goal. Kanu made his debut for Portsmouth as a substitute against Blackburn Rovers on 19 August 2006, the opening day of the 2006–2007 Premier League season. He scored twice and missed a penalty. Though Kanu led the top scorers chart early in the season, he had a goal drought for the rest of the season, but still finished as the top goalscorer for Portsmouth, with 12 goals.
In his second season at Portsmouth, Kanu scored in both the FA Cup 1–0 semi-final win against West Bromwich Albion and the 1–0 win in the final against Cardiff City, earning him a third FA Cup winner's medal.
His first goal of the 2008–09 season put Portsmouth 2–0 up in their eventual 2–2 UEFA Cup draw with Italian club A.C. Milan. He later scored the winning goal against Bolton Wanderers, which ensured Pompey's mathematical safety. It was his only Premier League goal of 2008–2009. He re-signed with Pompey in August 2010, with an eye on becoming a coach when he retired. Kanu signed a three-year deal and kept the number 27 shirt, but was not a regular starter throughout the course of the season and only managed two goals.

Load more