There are strong indications that former Nigeria skipper Nwankwo Kanu may soon part ways with Portsmouth.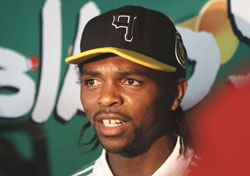 Kanu, who has been injured and was unavailable for Portsmouth's English Championship game aginst Millwall on Tuesday, could be asked to leave the club due to inactivity.
The former Arsenal and Ajax playmaker, has not even made an appearance for Pompey since Appleton became manager at Portsmouth in November, 2011.
Coach Appleton recently said he has no plans to use the 'King's' experience after suggesting Kanu is not fit enough to start their games. Just like Kanu, another African player, Benjani has also been relegated to the bench.
"I certainly wouldn't be expecting too much from Kanu in the run-in. Kanu is not fit enough to play, end of story," Appleton said.
"It is difficult for me to consider the players who have not been involved in our games. Benjani comes off the bench to ask questions on why he might not get a start.
"But, I have told all of them. I can't afford to start playing players who I don't think will get through 45 minutes of football," said Appleton.
It would be recalled that Kanu's club have been in financial crisis for the past two seasons. The club of the English fans were close to going into administration last month, as they could not even pay players wages since late last year. Pompey was in huge debt of about £50 million.
Apart from Kanu, many of the players are due to be offloaded into the transfer market, while some face compulsory retirement.

Load more