The Economic and Financial Crimes Commission, EFCC, on Thursday arraigned a Permanent Secretary in the Federal Pension Office and five others before Justice Talba Mohammed of a Abuja High Court for allegedly stealing N14.5 billion from the pension treasury.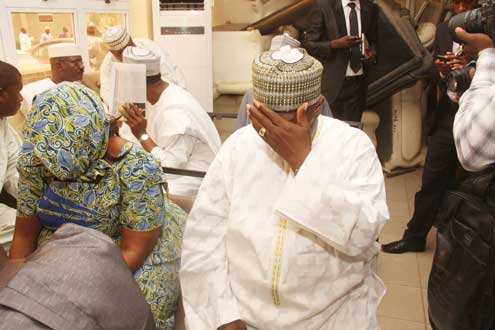 The Perm Sec, Atiku Abubakar Kigo, was docked alongside Mr. Esai Dangabar, Ahmed Inuwa Wada, John Yakubu Yufufu, Sani Habila Zira and one woman, Mrs. Veronica Ulonma Onyegbula.
They were arraigned on a 16-count charge wherein they were alleged to have committed criminal breach of trust as public officers in respect of the sum of N 14, 518, 567, 724.36 , punishable under section 97 of the Penal Code Act, CAP. 532, Laws of the Federal Capital Territory, Abuja, 2007.
The amount which is allegedly part of the Nigeria Police Pension Fund in an account in First Bank of Nigeria Plc was said to have been diverted by the accused persons while they were supervising the funds.
Esai Dangabar, John Yakubu Yusufu, Mrs. Veronica Ulonma Onyegbula and Sani Habila Zira allegedly helped themselves to the tune of N8.2 billion from the Police Pension Fund between January and December, 2009 alone.
Exactly a year later, between January 2010 and February 2011, Atiku Abubakar Kigo replaced Esai Dangabar in the scam and they jointly accessed, fraudulently, another sum of N4.740 billion again from the funds.
Soon after this amount was taken out of the Pension Fund, Ahmed Inuwa Wada replaced Atiku Abubakar Kigo and teamed up with Yusufu, Onyegbula and Zira, to cart away about N858 million between February 2011 and June 2011.
On the 31st of January, 2011, the six of them were alleged to have help themselves to another N656.56 million.
The accused persons pleaded not guilty to the entire 16-count charge and applied to the court to remand them at the custody of EFCC where they have better facilities than the prisons . But the court declined their request though the EFCC did not oppose the application, and ordered that the accused persons be taken to Kuje Prison pending the hearing of their bail application slated for 3 April. Justice Mohammed also fixed their trial for 28 May.
—Nnamdi Felix / Abuja

Load more