The State Security Service, SSS, on Thursday paraded seven men accused of being part of the gang that mastermind the kidnap of Mohammed Khamis Majed Ishmael AI Ali, a national of United Arab Emirates early this year.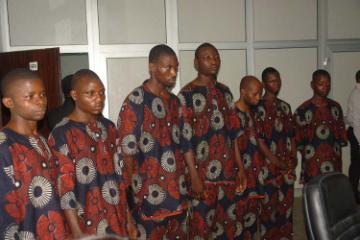 The suspects paraded by the security agency all aged between 22 and 33 years include Ojo Ibrahim Ajibade, Lamidi Akinkunmi, Olasunkanmi Temitope a.k.a. Rasky and Nuremi Lamidi.
The others include Siyanbade Musibau Olalekan, Saka Kashim and Jelili Ajagungbade Adeleke a.k.a. Owuye.
Marilyn Ogar, Deputy Director, Public Relations, SSS, told journalists that all the suspects took part in the kidnap of the UAE citizen who spent 60 days in the custody of his abductors.
However, four other suspects who were part of the kidnapping, according to SSS, are still at large.
According to Ogar, Khamis was lured to visit Nigeria by the accused for a phantom business transaction with a non-existent Finuche Investments, but was abducted on his arrival in Nigeria and held hostage for 60 days at Aboriogun Village, Ikoyi town, Isokan Local Government Area of Osun State.
The UAE national was however released on 19 March and dropped off in Ibadan, just a day before they were arrested by the operatives of SSS.
Ogar listed the roles of each of the suspects in the abduction of Khamis.
Ojo Ibrahim Ajibade described as a 29-year old spare parts dealer, according to the SSS spokesperson, "confessed to participating in the process of luring and abduction of Khamis. He was also one of the guards that protected the hostage in the Aboriogun village hideout."
Lamidi Akinkunmi, was described as a 29-year video cameraman who is also involved in the practice of voodoo and one of the guards who kept watch over Khamis in the hideout.
Nuremi Lamidi, Jelili Ajagugbade and Siyanbade Musibau Olalekan, 25, 33 and 29 years old respectively, according to SSS, also confessed that they participated in the abduction and keeping the hostage in custody.
Saka Kashim, a 27-year old mechanic, Ogar said, also admitted to participating in the abduction of Khamis.
In addition, Kashim, according to Ogar, was the one who took Khamis to Ibadan where he was eventually released.
Ogar said the suspects will soon be charged to court while imploring Nigerians to continue to partner with the security agencies by volunteering useful information.
By Oluokun Ayrinde/Abuja

Load more