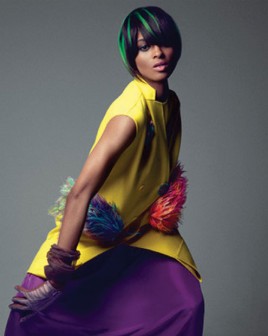 By the simple definition of the trend, colour blocking is all about wearing two or three bright bold colours that support and complement each other in an outfit. But avoid colours on the exact opposite sides of the colour wheel, red and green, blue and orange as well as yellow and violet are classic examples of this. Colour combinations like these have a high contrast value and can clash heavily against each other.
It is more effective to contrast two tonal variations with a more contrasting colour, for example the combination of pink and purple against a vibrant lime green works well.
So how do you end up not dressing like a clown? Wear colours that suit you. Colour block for your body type. Avoid details. Ensure you get the colour combinations right. Choose the right fabrics. And wear it with confidence.
In as much as bright colours are what make the trend tick, you must always wear the shades that really complement your skin tone.
The more colours you add, the wider and shorter you appear, so use a limited colour palette to your advantage, if you are short. To disguise your bottom half, wear a brightly coloured top with a pair of pants in a darker shade. If you are skinny, horizontal blocks of colour will give the illusion of curves where you want them. If you are already curvy, then use darker shades around the hips in order to give you a more flattering effect.
Remember that bright colours get you noticed, always wear it with confidence and very little makeup to avoid being over dressy.

Load more