Nigeria's former Green Eagles player, Adokie Amasiemeka has said that the newly appointment Technical Director of Nigeria football, Tom Saintfiet, is not good enough for the position.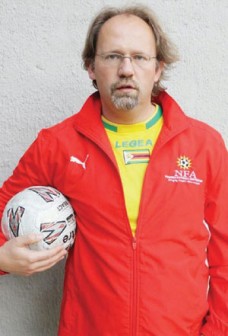 Saintfiet, 39, was on Wednesday handed a four-year contract on a $20,000 (N3.2 million) monthly take home by the Nigeria Football Federation, NFF, Executive Committee as the country's Technical Director, to oversee the development of football in the country for the next four years.
He was manager of the Namibian national team between 2008 and 2010, before moving to Zimbabwe, where he was forced out of the country over immigration issues. His last job before the Nigerian appointment was in Ethiopia, which he later quit after just five months.
Adokie in a telephone interview with Brilafm this morning, said the appointment of Saintfied was faulty, arguing that Nigeria has qualified personnel to occupy the post and do a better job for the country.
According to him, as someone who will be responsible for the development of Nigeria's grassroots football, it is naturally right for the NFF to pick an indigenous coach, who has knowledge of the country's players, playing pattern and programmes to succeed.
"I don't know their yardstick for choosing the Belgian (Saintfiet) ahead of other qualified Nigerians.What is his track record? What does he know about Nigerian football? For me, he is not good enough for the job," the former Commisiioner for Sports in Rivers State declared.
Meanwhile, speaking on BBC Sports today, Tom Saintfiet said he is competent as the National Technical Director of the country's football, adding that he has held the same position with Dutch First Division side, FC Emmen, and having worked in three different African nations in the past.
—Bamidele Olowosagba

Load more